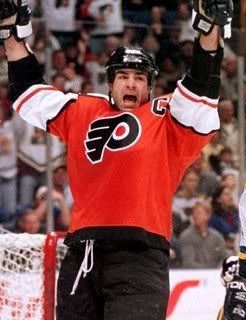 Tomorrow, former Philadelphia Flyer Eric Lindros is expected to
announce his retirement
from the NHL, ending his 13-year career. Many will unfortunately remember Lindros for his concussion problems or forcing his way out of Quebec and not remember the dominant power forward he was. A five-time 40 goal scorer, the "E Train" also took home the 1995 Hart and Pearson trophies, was a 7-time NHL All-Star, won a gold medal with Canada at the 2002 Olympics in Salt Lake City (and silver in 1992-Albertville), and finished with 372 goals in 760 games.

So he's a no-brainer of a Hall of Fame selection, no? There shouldn't be a debate, right?


Apparently, there is a big debate on whether Lindros should or should not be given admission to the Hockey Hall of Fame beginning in two years. Those in favor of Lindros' entry can easily point to Cam Neely and Dick Duff as players with similiar statistics who were voted in. It is the Hall of Fame, not the Hall of Good.


I don't think personally Lindros should be in. I think any Hall of Fame is for the elite, top-tier players in their individual sport. While Lindros was well on his way to a Hall of Fame career, injuries plagued him and affected his play. You can't vote a player in based solely on what they should or could have accomplished. If the Professional Hockey Writers Association is going to vote in players such as Neely and Duff, that is going to open the door for many other good players, thereby lowering the prestige of acceptance over time.


If you want a player to vote in, why not Dino Ciccarelli? The man tallied 608 goals and 1200 points in his career, but physical confrontations with some media members might be the reason he's been excluded.


If the Hockey Hall of Fame wants to return to a club of great players, the PHWA needs to open their eyes and vote smartly. There should be no politics, no campaigns for players, no "what ifs", just a vote for the greatest hockey players ever.


Should Eric Lindros be voted in the Hall of Fame? Who do you think should be included?