Monday marks the 16th anniversary of the tragic death of former Pittsburgh Penguin and University of Wisconsin coach, "Badger" Bob Johnson. On November 26th, 1991, Johnson succumbed to brain cancer, which he had been diagnosed with shortly after Pittsburgh won the 1991 Stanley Cup. The 1990-91 campaign was "Badger's" only season with the Pens. He had made a name for himself while coaching the Wisconsin hockey team for sixteen season, leading them to seven NCAA tournaments and three national titles.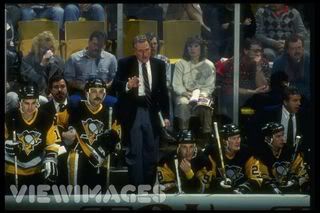 Johnson was a coach that player's loved to play for. He was always upbeat and optimistic about things. There was never a bad day at the rink and he could find the good in anything. You may have heard his famous quote,
"It's a great day for hockey"
being uttered in an arena or during a hockey broadcast. He was a winner in every sense and was forever immortalized in the Hockey Hall of Fame, posthumously, in 1992.
"Badger Bob" was a guy that you could not help but like. He had a warm, friendly personality and his love for the game of hockey rubbed off on everyone he came across. I remember watching the 1990-91 Penguins Stanley Cup VHS and seeing Johnson in the massage room with a Pens player. With a cheery look on his face, he tells the players aside from getting a massage to relax, to go watch a John Wayne western movie. His exuberance was contagious and probably a good reason why the 1990-91 Penguins had so much success.
This is the pre-game ceremony the Penguins held before their game on November 27th, 1991 where they unveiled
"It's a great day for hockey"
painted on the ice at the Igloo.
The hockey world has not been the same since Bob Johnson left us 16 years ago. Every person in hockey misses him and we can all only hope to be so optimistic like Badger Bob was.
As hockey fans, every day is truly
"...a great day for hockey"
.