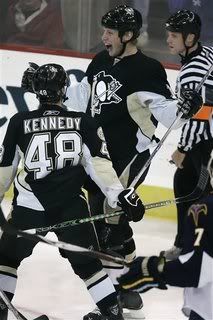 Three guys who have been struggling all came up big for the Penguins tonight in a 5-0, pardon the pun,
thrashing
of Atlanta. Jordan Staal and Colby Armstrong contributed goals (Staal looked dominant out there and could have easily notched a hat-trick) and Marc-Andre Fleury, just two nights after being pulled after only four shots, stopped 28 shots for his second shutout of the season.
It was possibly the most complete game the Pens have played all season. They were ferocious on the forecheck and stingy in their own zone. That's back-to-back big wins against good teams in their conference. You can see confidence and chemistry building among the four lines. Of course, the schedule maker is putting an end to that as the Pens don't play again until next Friday night against Dallas. It's not as if Pittsburgh is heading on a long west-coast road trip, no. The tilt against Dallas will be at home, just like tonight's game against Atlanta. Can we have the boys play some hockey?
Hopefully Michel Therrien will be able to keep the Pens sharp and allow them to build on these two important wins. It might be early, but this could be a stretch of games here that turn Pittsburgh's season around.