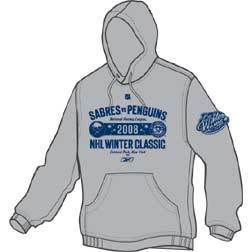 If you're to believe the logo on the sweatshirt being advertsied currently on
Great Skate
, then you might want to pull out your "Jump to Conclusions Mat" and say that when the Penguins and Sabres face off on January 1, 2008 for the
Ice Bowl
, both teams will be sporting retro uniforms.
It's being rumored that Pittsburgh will don their baby blue home jersey's that they wore from their second year, 1968, to 1972.
The Sabres are said to be putting on their classic white uniform, with the flying buffalo between two swords. They wore that logo from their beginning in 1970 to 1996 and used it was a third jersey last season, but in blue.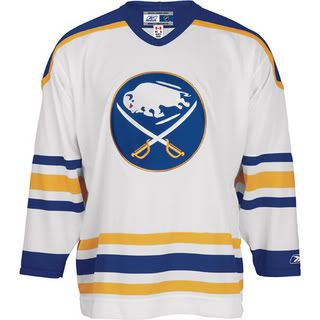 The NHL, nor the Penguins or Sabres have made an official announcement about what either team will be wearing for the game, but it would be pretty cool if this was indeed true. Hockey fans love themselves the retro jerseys and it'd be a nice added touch to see them out on the ice come New Year's Day.
UPDATE
If you visit the
NHL online store
, you'll' notice they have the Penguins and Sabres jerseys labeled as "Winter Classic". Looks like they are indeed going old-school for the outdoor game.
UPDATE #2
I contacted the Sabres and their response was "No information on that has been released."
UPDATE #3
The NHL has confirmed both team will wear the retro jersey's and they will be the RBK Edge style.