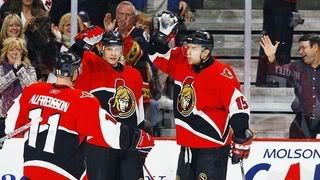 While there have been reports about the 2008-09 National Hockey League season opening up in Prague, Czech Republic next season,
Slam! Sports Canada
is reporting that the Senators are negotiating with the league to start next season in Stockholm.

The NHL is keen on having a Rangers-Lightning matchup in Prague, which would make sense with the greatest Czech player being a Blueshirt. And yes, this would mean two regular-season games outside of North America to begin the 08-09 campaign. It's rumored the Senators possible opponent would be Sidney Crosby and the Pittsburgh Penguins.

It'll be interesting to see how the off-season goes because there is speculation Jagr may not be in New York come next season. There's rumblings he'll either retire or sign elsewhere, so then the NHL would be able to market Marty Straka, Marek Malik, Michal Rozsival, and Petr Prucha to the Prague crowd.

It is very early in the proceedings of the negotiations, but the NHL seems intent on beginning their regular-seasons outside of the US and Canada along with having an outdoor game every year. I expect both to become annual events as it's becoming more and more evident that each of the major sports leagues is deadset on promoting their brand all over the world.