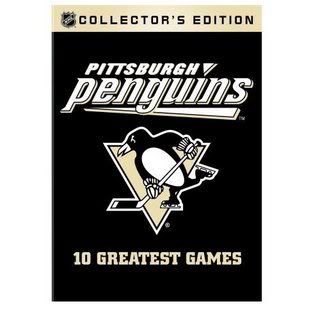 This Tuesday, NHL Productions will be releasing the "10 Greatest Games in Penguins History" DVD which will be falling into my collection come Christmas time via a present. If you're wondering what games will be found in set, here they are:


1. May 25, 1991: Penguins vs. North Stars: The Penguins win the Stanley Cup by crushing Minnesota 8-0 to win the series 4-2.


2. June 1, 1992: Penguins vs. Blackhawks: Back-to-back Cups are won in a 6-5 nailbiter as the Pens sweep Chicago 4-0. How can Pens fans forget Tom Barrasso dancing in his crease as time expired?


3. April 25, 1989: Penguins vs. Flyers: In one of highest scoring playoff games ever, Mario Lemieux puts up a 5 goal, 3 assist night during a 10-7 win over Philadelphia in Game 6.


4. Dec. 27, 2000: Penguins vs. Maple Leafs: The Captain, Mario Lemieux comes out of retirement and scores a goal (from a nice Jaromir Jagr assist) and grabs two helpers.


5. April 24, 1996: Penguins vs. Capitals: Petr Nedved ends this overtime thriller after the fourth extra period during the 1996 Eastern Conference quarterfinals.


6. April 9, 1993: Penguins vs. Rangers: A monumental night as the Pens break an NHL record with their 16th straight win. Oh, and some guy Lemieux torches the Blue Shirts with 5 goals.


7. Oct. 24, 2006: Penguins vs. Devils: The young kids of Pittsburgh all score a goal and the Pens win 4-2 over their arch rivals. Be sure to enjoy the highlight reel goal b Evgeni Malkin and his exuberant celebration afterwards.


8. May 10, 2001: Penguins vs. Sabres: Game 7 of the Eastern Conference semifinals is own by none other than Darius Kasparaitis! This goal caused me to leap off the edge of my couch and proceed to perform a type of dance that is similar to that of Elaine from Seinfeld.


9. Dec. 13, 2006: Penguins vs. Flyers: Sid the Kid scores a goal and sets up five to take the reigns in the NHL scoring race. Boy, this kid loves to torture the Flyers and Derian Hatcher.


10. April 13, 1991: Penguins vs. Devils: This is game is known just for "The Save", by Frank Pietrangelo in a 4-3 win during Game 6 of the Patrick Division Semifinals.


Sounds like a pretty enjoyable lineup. A couple of games that could have been included:

- Mario Lemieux's late winner in Game One of the 1992 Stanley Cup that the Pens won 5-4


-Mario Lemieux's last home game the first time around in 1997 against the Flyers in the playoffs. Lemieux goes out in style scoring a breakaway score as Gary Thorne's call will never leave my head and leaves the hair standing on the back of my neck everytime I watch it:

-Sidney Crosby makes Jose Theodore look clownish with a shootout winner two years ago against Montreal.


Those are just a few of the games that could have been included, but I'm not complaining about the ten they have now. Is there a game you wanted to see?