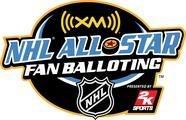 Voting for the 2008 NHL All-Star Game in Atlanta began yesterday and the only way you can help put your favorite players in is through the internet or your Verizon phone. Say goodbye to punch-hole / hanging chad ballots and hello technology!

Once you register, you will find yourself on the main page with twelve drop down menus to select three forwards, two defensemen, and one goalie from both the Eastern and Western Conference.

Want to hold a write-in campaign for someone not on the ballot, like say Sergei Gonchar? Well, there is also an additional drop-down menu for both the Eastern and Western Conferences which lists a ton of players to choose from (not every player is listed). The catch though is that if you select a write-in forward, it will replace the third forward you selected for that conference or second defenseman if you chose a blue-liner.

Once you finish voting and are registered, you will receive an email which will give you a two-week trial to XM Satellite Radio, which is kind of cool, except for the fact that out of the 86 channels that are included in the free trial, none are for the NHL on XM channel, which makes me scratch my head. XM is a sponsor of the All-Star Game, yet they don't even include the NHL channel in a trial that everyone who votes will receive? Would seem to me like a slam dunk, no? Hell, there isn't even a Sports category to choose from in the trial channels.

To end with some good news is that there likely will not be another "Vote for Rory" campaign which hijacked the voting news last season. The league has implemented a security code verification number that you must enter before submitting your selections. This is obviously to ensure there's no mass voting machines skewing the numbers like what happened last season.

Be sure to vote early and vote often. You can start by following this link to being voting for the 2008 NHL All-Star Game

UPDATE So I'm going to assume that the captain's "C" and assistant's "A"'s will be on the right side of the jersey, just like the Red Wings. Also, I believe this is the first time that the name of the conferences has been shortened on the All-Star jersey's.