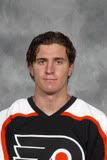 If you asked ten hockey fans who the guy in the picture was, I would bet that all ten would have no clue. If you asked ten Flyer fans, they would all identify him as their one of their teams leading scorers, Mike Richards.
In case you haven't noticed, Mike Richards is having a damn good start to the 2007-08 season. As of tonight, in which he added two assists in a 3-1 win in Carolina, Richards has notched 30 points, good enough for sixth in overall scoring in the NHL. His 14 goals and 16 assists has helped revitalized the Philadelphia Flyers and brought back some respectability to the franchise after a disastrous start to the post-lockout NHL. Yet, while Philly is on the East Coast, he doesn't seem to be getting any attention from fans. Looking at the latest All-Star voting numbers, Richards is 18th with 19,783 votes, behind teammates Daniel Briere (62,867) and Simon Gagne (22,946), even though the Flyers captain has only played in 10 games this year and tallied 8 points. Richards has only been kept off the scoresheet five times in twenty-four games played this season.
I've stated before that I'm not a big fan of the "Vote for Rory"-type campaigns, but someone has
started one for Richards.
While the "Vote for Rory" situation was just a way to exploit the NHL's All-Star voting process, any campaign to put Mike Richards in Atlanta is definitely well-deserved.