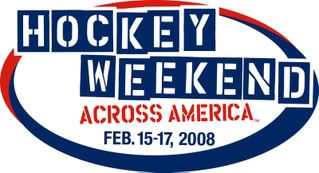 This February, USA Hockey will be promoting a program similar to our frozen friends up north. Throughout the weekend of February 15-17, USA Hockey will be holding
Hockey Weekend Across America
, which will involve daily themes and events to help promote the game of hockey here in the United States.
The Canadian Broadcasting Company does something similar, but held to just one day. Their
Hockey Day in Canada
is a huge extravaganza, with events being held in many cities all across the country. The event, which began in 2000, also features an all-Canadian tripleheader of NHL games.
Hockey Weekend Across America's events have not been announced yet, but USA Hockey si encouraging everyone to create an event of your own to help promote the game. They have begun promoting a theme for each day that weekend. Friday, February 15th is
"Wear Your Jersey to School Day". A great opportunity to tell your friends why the hell the Canucks have a whale jumping out of a "C". Saturday, February 16th is "Bring a Friend to the Rink Day", which is a great way to attract new fans to the game, whether it's taking a few laps around your local pond or attending a hockey game at any level. Sunday, February 17th is the last day and the theme is "Celebrate Local Hockey Heroes Day", a time to honor those in your community for their dedication to the game of hockey.
It'd also be nice if they can get NBC involved in this somehow to intertwine their coverage of the NHL and go around the country and tell stories of local hockey commnuities. I think we as hockey fans (and American hockey fans if you're in the States) can do something this weekend to help promote the game and maybe introduce to someone who has yet to experience what the fastest game on earth is all about.