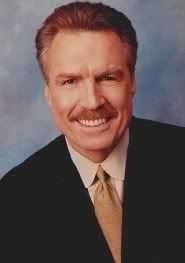 If you're a hockey fan, there's a good chance you recognize that handsome fella to the right here. That's the great NHL broadcaster, Bill Clement, formerly of ESPN/ABC, NBC and Versus, now currently in the play-by-play booth for the Philadelphia Flyers. For some strange reason, Versus decided not to bring Clement back over the summer and replaced him with Bill Patrick, who's okay at best. Of course, Versus' studio coverage has been lacking with personality as best shown in this video of an Elias Sports Bureau stat guy getting punk'd on the Versus set.
If you feel like you or your company is lacking a little personality, motivation, or Bill Clement, you can hire the two-time Stanley Cup champion to speak to them, all through his personal website
Bill Clement.com
. Some of the topics he hits on are: "Building Personal Credibility", "Embracing Change", and my favorite, "Energy Source or Energy Vampire. It's Your Choice". Certainly, any 60-90 minute speech that Clement would present to your employees would light enough of a fire under their asses that you'd see profits doubling or even tripled over your next couple of quarters. The sound quality is sort of crappy, but here's a good idea of what to expect from Clement as a keynote speaker.
Not in the business of keynote speaking? Looking for a man to shill your goods and services? Then Clement is your man! With over 20 years in front of a camera lens, Clement has the personality and is recognized throughout North America to put your product on the map. You've probably heard of OFF! bug spray and probably have used it during the summer time or on a camping trip. The popularity and notoriety of OFF! products skyrocketed once Bill Clement grasped a bottle of their bug spray, ripped off his shirt, and told the world what a great job the spray does.
Still not a believer? Listen to what Paul Landes, VP of Marketing for GCI Communications said of Clement's work:
"Bill Clement clearly did his homework on our company, and as a result, towers over the field of speakers we have had in the past. The long and enthusiastic standing ovation he received said it all."
Those are some strong words. Some absolutely true, strong words. Let's not forget, Clement is a two-time Stanley Cup champion and a Quebec province badminton champion while in high school. What more do you need? Hopefully, sometime in the near future, when the NHL returns to ESPN (we all know it's inevitable), they will be smart enough to bring Clement back either as their studio lead host or alongside Gary Thorne as the network's number one color-commentator. A boy can dream. A boy, can sure as hell dream.