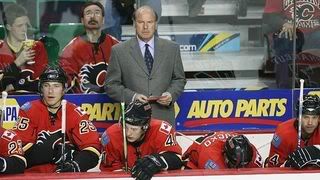 From the wonders that is sometimes the
Hockey's Future
message boards, courtesy of poster
SChan
, comes a hilarious video featuring Mike Keenan and his long-time arch nemesis, Kristian Huselius
wishing you a happy holiday
. Thanks to
Office Max
, you can upload any photo to create your own elf.
For those who don't know the backstory between these two and why the video is so funny, during Huselius' four seasons with the Panthers, his coach was Mike Keenan. Feeling he was underperforming, the Flames forward spent much of his time in the coach's doghouse and was eventually shipped out to Calgary. He was pretty much Keenan's whipping boy and couldn't get away from him soon enough. After being dealt out west, Huselius started to shine and posted 49 goals and 116 points in his year and a half away from Keenan.
Enter this past off-season when the Flames fired coach Jim Playfair and decided to hire Keenan. Immediately the rumblings began about Huselius' future with the club and if he'd be able to co-exist with his former boss. So far, so good. It's a different environment for both being in Calgary as opposed to a losing situation in South Florida. It also helps that Huselius is a couple of years older and more mature and Keenan is well...a few years less crazy?
"He's the coach for me and for everybody else on the team," he said. "We follow his direction and we try to win games. I don't think there's a problem (between coach and player) at all. I don't think about that, and I don't think he's thinking about it, either. We're trying to win."