This Winter Classic game is going to have such a "retro" feel, it's going to be very interesting to watch and see how it looks on tv. We've already discussed the fact that
both teams will wear retro uniforms
, but now there's news of some other "classic" touches being put on the game.
Where to begin? Ok, first up, both projected starting goaltenders, Ryan Miller and Dany Sabourin will be sporting "retro" goalie masks. No, we're not talking Jacques Plante or Gerry Cheevers-style looks, but both masks will feature an old school paint job.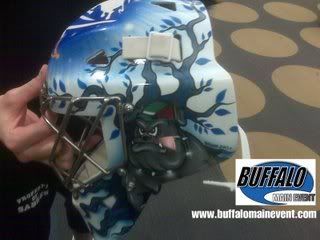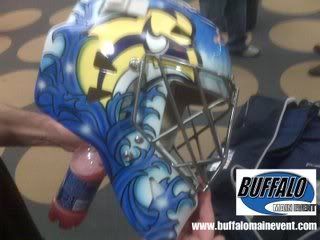 Ryan Miller's
Dany Sabourin's
Next, the equipment for the players is going to have old-timers yearning for the days of the wooden stick. The
Pittsburgh Tribune-Review
is reporting that Nike-Bauer has created a composite stick that will resemble a wood one. I thought RBK was the universal equipment sponsor of the NHL? I'm wondering if some players will refuse to use these, especially since players are particular about the tools they use on the ice. Also, isn't Sidney Crosby a RBK man? No way he'll be using a Nike-Bauer stick.
The Tribune-Review is also reporting that the makeup of the ice surface will be sand based, allowing fans to hear a cracking-type noise as the players are skating up and down the rink. That should have some buzz to it alongside the game. I guess the NHL is hoping to create a pond-like atmosphere and hope it translates through the airwaves.
The NHL is really taking advantage of this opportunity to showcase the game on a national stage. I've already seen the NBC/Winter Classic commercial numerous times on various channels as well as a full-page ad in this week's Sports Illustrated. I really believe, even though it'll be up against college football, the game will attract a decent rating. We're just 9 days away from the historic event and after today's Bills-Giants game, the hype will only be greater as workers begin installing the rink onto Ralph Wilson Stadium.
Thanks to the
Pittsburgh Tribune Review
,
Pittsburgh Hockey
, and
Buffalo Main Event
for the information and photos.