MONOLOGUE
Chris Simon proved again last night why he needs to get a permanent boot from the league. During a stoppage of play, Jarko Ruutu and Ric Jackman were jawing as both were going to their respective benches. Simon came over, and clear as day on video, stomped on Ruutu's foot. Yes, he stomped on Ruutu's foot with a skate blade. The Penguins forward was hurt for a little while, but able to finish the rest of the game. Simon on the otherhand, was given a match-penalty and is probably facing a suspension.
This is the second incident with Simon in the last two seasons. We all remember his two-handed baseball swing to the upper-body of Ryan Hollweg last spring. That act got Simon 25 games. What will Colin Campbell decide this time around? Especially since Simon is a repeat offender.
I'd like to see 15-20 games. While Ruutu was eventually okay, what could have possibly happened would have been extremely harmful to him. As the Fox Sports New York announcers Billy Jaffe and Howie Rose were discussing, a deep laceration, severed tendon, or even worse could have been the outcome of Simon's actions. Luckily, it did not turn out that way, but that should not affect the decision by Campbell.
At what point does the NHL just put their foot down (pardon the pun) and make a statement here with Simon and his history of actions on the ice?
NEWS AND NOTES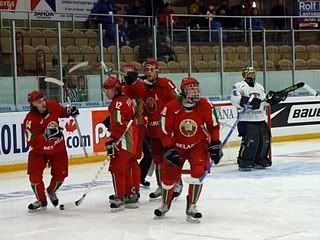 Former NHLPA head Bob Goodenow has been enlisted by Russian energy tycoon, Alex Medvedev to create a professional European hockey league to compete with the NHL. Also involved is former Red Wing, Igor Larionov. With Russian still not part of the IIHF transfer deal, it'll be interesting to see what type of money is thrown at big name European players to entice them to play in the league, which could begin as soon as next September.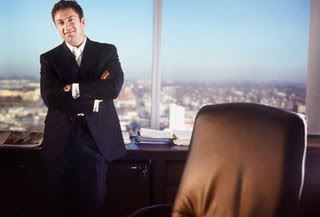 If at first you don't suceed, try, try again. That's the motto that billionaire Daryl Katz is taking in his attempt to purchase the Edmonton Oilers. His $188 million bid still has a few hurdles to overcome. Katz must have 67% of shares sold to him and finally, be approved by the NHL Board of Governors.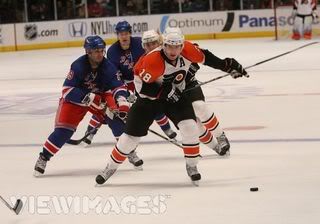 Is this the start of a trend? This week, the Flyers signed Mike Richards to a twelve year contract worth $69 million, ensuring that their "future Bobby Clarke" will be in a Flyer uniform until he's 34 years old. While Commission Gary Bettman is on record that he's a proponent of shorter contracts, it's obvious that teams want to lock up their young superstars for quite sometime, thereby saving themselves money in the long-run, before the players hit unrestricted free agency.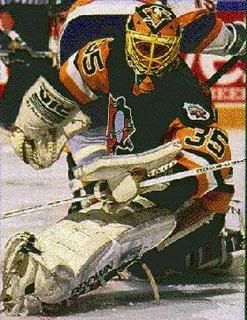 Two-time Stanley Cup winner, Tom Barrasso was named the new goaltending coach of the Carolina Hurricanes this week. The 18-year veteran replaces Greg Stefan, who resigned to take the head coaching job of the Plymouth Whalers of the Ontario Hockey League.

AROUND THE BLOG WORLD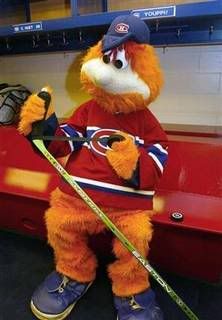 Love mascots like I do? Well, Melt Your Face Off delves into the deep, seedy underbelly that is the NHL's Mascot Madness page.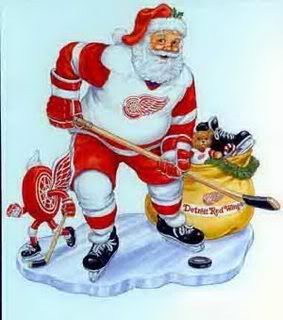 We're just a little over a week away from Christmas, and Greatest Hockey Legends gets us in the festive mood with the hockey version of the "12 Days of Christmas".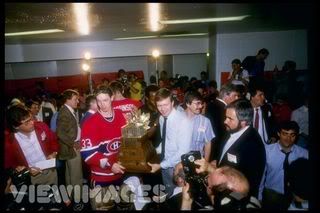 Forgotten about the madness that went on when the Canadiens won the Cup in 1986? Fear not, Four Habs Fans has unearthed video of the celebration.




When Phoenix visited Pittsburgh a few weeks back, Hockey Adventure wonders what a conversation between Wayne Gretzky and Sidney Crosby might have sounded like.




The Pens Blog takes a break from being hilarious and reviews the newest hockey DVD, "The Rocket", the story of Maurice Richard. I have the French/subtitled version and this movie is amazing! Go get it!

LET'S GO TO THE VIDEOTAPE!
The biggest hit around the league in the past week.

The LA Kings would like your All-Star votes. I especially like Lubomir Visnovsky's tactic.

This week's edition of "Coaches Corner", courtesy of Hockey Night in Canada

Who doesn't love Peter Puck?

PLAYER OF THE WEEK
Joffrey Lupul capped off this week with his second hat-trick of the week last night against Carolina. He had a career game on Tuesday with a hat-trick and three assists against the Penguins. In one week (3 games), Lupul doubled his season total in goals.

UPCOMING GAME OF INTEREST
Detroit Red Wings at St. Louis Blues, Thursday, December 20th, 8:30pm EST
An old fashioned Norris Division match-up features the always dominant Wings and the up-and-coming Blues. It should be interesting to see how newly-traded Andy MacDonald reacts to his new scenery in St. Louis. The former Anaheim playmaker will have plenty of weapons to work with. The Wings will be looking to continue their winning ways behind the marvelous play of Henrik Zetterberg and Pavel Datsyuk.

GRATUITOUS PITTSBURGH PENGUINS RELATED AWESOMENESS
A 1982 Penguins commercial where players are promoting the upcoming "Budweiser Jug Night". "Hey, you hosers!"

That's it for this week, I'll be back next week for more "Puttin' On the Foil"