MONOLOGUE
I'd talk about Chris Simon's suspension, but at this point, it's not worth even wasting text on anymore. I think it says it all when the guy's been suspended for 55 games in the past two season. Was he concussed this time, too?
Anyway, in a better spirit of things, here is my Christmas wishlist, NHL-style!
-A playoff berth for the second year in a row for my Pittsburgh Penguins. After the season they had a year ago, it was would incredibly disappointing and a major step backward in that young team's development.
-A goaltender for the Tampa Bay Lightning. That team has a tremendous amount of talent on the ice, but they've struggled between the pipes ever since Nikolai Khabibulin left for Chicago.
-A healthy year for my boy, Erik Cole. After a scare earlier this season, every big time hit Cole takes makes me cringe. Hopefully his neck injury from two seasons ago is in the past and he'll be able to play a full season and show us his 40-goal potential.
-A muzzle to the media who are eagerly anticipating a feud to redevelop between Mike Keenan and Kristian Huselius. Keenan said this week in a conference call with media that Huselius is a more mature player and person since his days in Florida. I'm sure the fact that the Swede is producing more in Calgary than in Florida helps too.
-A noisemaking year for the St. Louis Blues. I'm really taking to this team. A young squad that's sprinkled with some veterans made a coup of a deal picking up Andy MacDonald for Doug Weight. It's going to be fun to see their young crop of players like Erik Johnson and David Perron develop into productive NHL'ers.
-Light snowflakes for the Winter Classic next Tuesday. Sam Flood, a NBC Sports producer, wished for a little bit of snow during the broadcast for visual reasons. I agree. How cool would it be to watch the game as it's flurrying? I just hope the weather conditions only help improve the game/broadcast and not hinder the gameplay.
-Finally, a gold medal for the USA World Junior team. The tournament gets underway tomorrow in the Czech Republic and the NHL Network will be picking up coverage of all the medal round games beginning on January 2nd. Canada, as always, will be the favorite and what I wouldn't give to see a rematch of last year's classic semifinal again.
NEWS AND NOTES

Islanders prospect Kyle Okposo announced this week that he's leaving the University of Minnesota to sign a contract with the big club. The seventh overall pick in the 2006 Draft became the eighth Golden Gopher to leave school early since the 2005-06 season. That prompted Isles general manager Garth Snow to denounce the coaching style of Don Lucia, saying he was not impressed with the development of Okposo's play.




"Tough guy" Ben Eager was traded to the Blackhawks for Jim Vandermeer this week, thus making Georges Laraque very sad. January 24th is the next time the Pennsylvania rivals get together and Big George was eagerly anticipating using Eager as his punching bag.




This week, the International Hockey Hall of Fame will induct Cammi Granato, Geraldine Heaney, Angela James, Phillipe Bozon, Igor Larionov, Art Bergulund, along with Mario Lemieux this May. Granato, Heaney, and James are to become the first women to ever be inducted. The International Hall of Fame was created in 1997 and will now have 150 members representing 22 countries.

AROUND THE BLOG WORLD



After having their title of "Hockeytown" questioned by many fans and media, (Sports Illustrated had an article where they dubbed Minnesota the new champion)Behind the Jersey reveals that the Red Wings plan to lower ticket prices in January to help fill those empty seats.




Not being a big fan of the Devil, I found this post by Eric McErlain of AOL Fanhouse interesting. On Saturday night, Miroslav Satan recorded the 666th point of his NHL career. Freaky!




Another family member of an NHL coach has reached the big time. Red and Black Hockey welcomes Ted Nolan's son, Brandon to the league as a member of the Carolina Hurricanes.




The Penguins might have found another shootout specialist to help Eric Christensen. The Confluence of the Three Rivers tells us about another of Kris Letang's shootout heroics.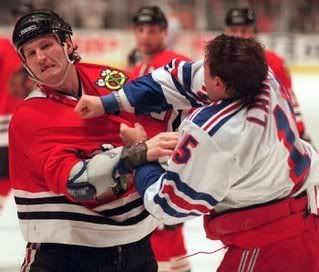 Yet Another Canucks Blog on why removing the instigator will not help the NHL.

LET'S GO TO THE VIDEOTAPE!
Here's highlights of the Rangers-Wild game this week, which of course featured Marian Gaborik's 5-goal night.

Don Cherry was very grumpy during Saturday night's "Coach's Corner" segment on Hockey Night in Canada.
ESPN's "NHL Minute" featuring EJ Hradek

The Sidney Crosby-Andrew Ference fight...with a techno music background!
PLAYER OF THE WEEK
Jason Spezza had himself a very productive week notching 4 goals and 2 assists, with a +4 rating as Ottawa went 2-2.

UPCOMING GAME OF INTEREST
Minnesota Wild at Phoenix Coyotes, Thursday, December 27th, 9pm EST
There's no hockey until Wednesday night, so somehow, hockey fans will survive two days without it. On Thursday night, can Ilya Bryzgalov handle the scoring machine that is Marian Gaborik? Hockey fans, mainly Wild fans, are hoping that Gabby's groin can hold up and allow us to see him play for a full season. Another player to watch, the 'Yotes' Peter Mueller. The rookie is getting a lot of ice team and is beginning to produce.

GRATUITOUS PITTSBURGH PENGUINS RELATED AWESOMENESS
Sidney Crosby and Alex Ovechkin give Brendan Shanahan a birthday cake during All-Star week last year.

We're done here for this week. Have a Merry Christmas and make sure you check out more "Puttin' On the Foil" next week!