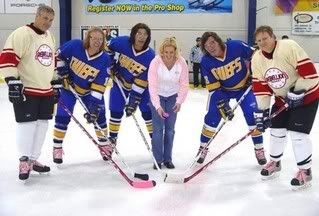 MONOLOGUE
New Year's Resolution's
Sidney Crosby
: To shoot just a tad more and not be so unselfish. Yes, making your teammates better is a special quality, there's way to many times where you have the best shot chance and you pass it up.
Mike Keenan and Kristian Huselius
: To keep the hatchet buried and forget about their time together in Florida. Keenan has mellowed and Huselius is older and more mature. That's the right recipe for the on-ice success we're seeing in Calgary.
Sean Avery
: To continue being the biggest pest in the NHL. He's the guy you love to have and hate to love. Avery has really taken the torch from Darius Kasparaitis, who previously held that crown.
Roberto Luongo
: To hope general manager Dave Nonis is able to bring in some offense to Vancouver, otherwise his stint in the Northwest might start resembling his tenure in South Florida. Lots of rubber being shot in his direction on a nightly basis.
Rick DiPietro, Garth Snow, and Charles Wang
: To continue turning the naysayers into believers. The 15-year contract looked silled two summers ago, but it's not so bad right now and Snow has put together a feisty team on Long Island. The question is how much can coach Ted Nolan continue to get out of them night in and night out.

St. Louis Blues and Chicago Blackhawks
: To keep developing their young players and bringing the respect back to each of these long-time franchises. They are both chock-full of young talent and quite a treat to watch.
Martin Brodeur
: To do whatever you do to get yourself prepared for a season and keep it up. It's amazing the kind of balance he gives the Devils even when it's predicted the team is in for a down year.
Mats Sundin
: To pull a Mark Recchi and get traded to a Cup contender, then re-sign with the Leafs over the summer. Sundin is a true Leaf for life, but he deserves to help contribute to a Stanley Cup run and not have to deal with the mess that is going on in Toronto.
George McPhee
: To make a splash next free agent period to sure up your offense and give Alexander Ovechkin some kind of support. OV may be a loyal guy to Ted Leonsis, but there will be only so many losing seasons he'll be able to take before he decides he wants to leave town.
Going Five Hole readers
: To have a great 2008 and thank you for visiting the site and adding your comments. It's much appreciated!
NEWS AND NOTES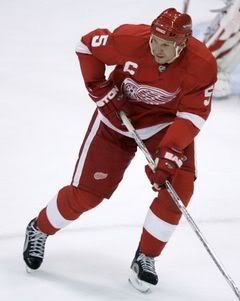 The Red Wings this week locked up the services of Niklas Lidstrom for two more, Norris Trophy-probably-winning years. He'll be 39 by the time his extension runs out and I'm pretty sure he'll still be the best defenseman in the league when he does decide to retire.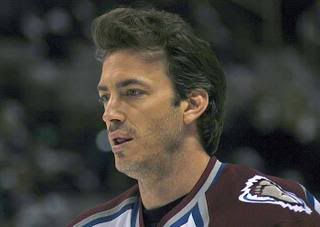 The Avalanche announced that their captain, Joe Sakic, will be sidelined up to three months because of hernia surgery. The 38-year old Sakic won't be back until the final few weeks of the season. It'll be interesting to see how the rest of the team respond without their captain in the lineup.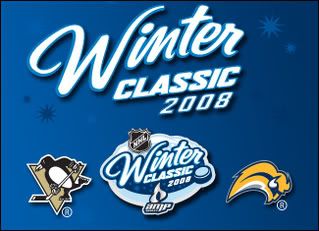 For Tuesday's "Winter Classic", the NHL is tweaking some rules due to the probable weather conditions in Buffalo.

AROUND THE BLOG WORLD


New Year's Eve, 1975. A great match-up between the Red Army hockey team and the Montreal Canadiens. Greatest Hockey Legends has the highlights.


The Pens Blog had probably the funniest line I've read...maybe of all-time this week in their Pens/Caps recap. "Ruutu pops some viagra and blasts Semin into the boards in the Caps zone."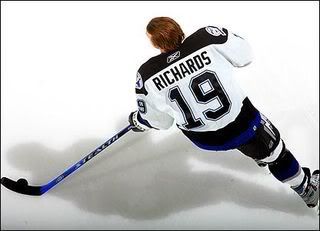 >
What has happened to Brad Richards since he won the Conn Smythe in 2004? The Puck Stops Here looks at his problem turning into a superstar.


Lynn Zinzer of New York Times' Slap Shot blog takes a look at the biggest difference between Madison Square Garden's two sports franchises, the Knicks and Rangers.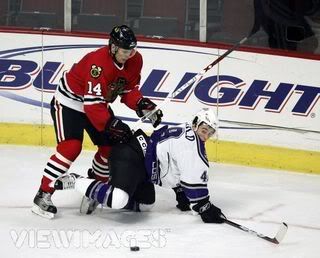 Things are looking up in Chicago. Skate 2 Stick talks about the energy coming back to the United Center.

LET'S GO TO THE VIDEOTAPE!
The Winter Classic Preview Show, Part I

The Winter Classic Preview Show, Part II

This past weekend's Coaches Corner from Hockey Night in Canada

Barry Melrose gives out his 2007 Awards
PLAYER OF THE WEEK
Alexander Ovechkin made headlines this week after his 4 goal outburst against the Senators on Saturday night. He finished a short holiday week with 5 goals and 2 assists as well as being +4.

UPCOMING GAME OF INTEREST
Pittsburgh Penguins at Buffalo Sabres, Tuesday, January 1st, 1pm EST
Really, the premier game to watch this week. The Winter Classic will be a great chance for the league to showcase the sport and who doesn't love an outdoor game? You've got Sidney Crosby, Thomas Vanek, Ryan Miller, Evgeni Malkin as just a few of the young stars of the league playing tomorrow. The teams will be wearing retro uniforms, goalies with retro looking equipment, sand-based ice surface, and 74,000 hockey fans packing a football stadium.

GRATUITOUS PITTSBURGH PENGUINS RELATED AWESOMENESS
New Year's Eve, 1988. Mario Lemieux scores 5 goals 5 different ways against the New Jersey Devils.

I hope you all have a great New Year and a wonderful 2008! Be back next week for more "Puttin' on the Foil".