MONOLOGUE
The standings as they look today
EASTERN CONFERENCE
Ottawa* 39 pts
Carolina* 35 pts
New Jersey* 34 pts
Boston 33 pts
Philadelphia 32 pts
NY Rangers 32 pts
Pittsburgh 32 pts
Montreal 32 pts
----------------
NY Islanders 30 pts
Toronto 30 pts
Atlanta 29 pts
Tampa Bay 29 pts
Buffalo 27 pts
Florida 27 pts
Washington 17 pts
WESTERN CONFERENCE
Detroit* 42 pts
Vancouver* 35 pts
San Jose* 34 pts
Minnesota 34 pts
Dallas 34 pts
St. Louis 33 pts
Anaheim 32 pts
Colorado 31 pts
----------------
Columbus 31 pts
Nashville 30 pts
Chicago 30 pts
Calgary 27 pts
Edmonton 27 pts
Phoenix 26 pts
Los Angeles 24 pts
The first through eighth seeds in the East are separated by 7 points and 11 in the West. That shows that every game means something and with the division winners getting the top three seeds, two points can put you from the bottom of the table to the top in an instant.
NEWS AND NOTES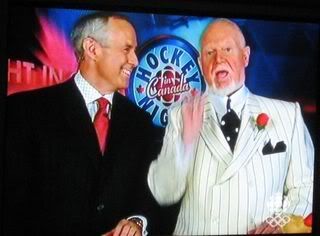 Ever wanted to know what kind of preparation goes into a weekly edition of Coach's Corner on Hockey Night in Canada? Well, the Toronto Globe and Mail
did just that for an interesting article.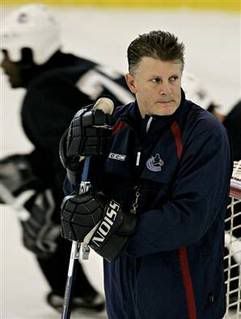 Court documents in the Steve Moore-Todd Bertuzzi case accused former Canucks coach, Marc Crawford of pointing "...to Moore's name and number on a board in the Canucks dressing room during the second intermission of that game and said ". . . (Moore) must pay the price." That can obviously be taken many ways and I would not in the sense of what actually did occur that night.


After missing the first two months of the season, Ducks defenseman Scott Niedermayer announced his return to the team this week. Niedermayer is still listed as "suspended" and cannot join the team until they make a roster move to fit his salary into their cap.


Mark Recchi's second fling with the Penguins ended this week as he was put on waiver, then re-entry waivers in which he was then claimed bu the Thrashers. The two-time Stanley Cup champ is on his last legs in the NHL and his production in Atlanta will determine exactly how much gas he has left in the tank.


Barry Melrose Rocks has written up a brilliant letter to the mainstream media in response to last week's Hockey Night in Canada piece on bloggers.


While some in the blog world loved the HNIC piece, Scotty Hockey was not a fan and gives us his own perspective.


The crew at 2 Man Advantage shows us the Islanders rabbi fan who lit the menorah at Nassau Coliseum this week, beginning Hannukah festivities.


So Wes Walz retired recently. Want to know how he's been keeping busy? The boys over at Melt Your Face Off chronicle his first few days of life after hockey.


Rejoice Blackhawks fans! Your games are going to be televised. But, why the long face Kill Bill Wirtz?


LET'S GO TO THE VIDEOTAPE!
Daryl Reaugh, Stars announcer. Makes you hear "bajumbas" in a whole different light.


Last week we gave some love to the goaltenders, this week to the scorers.


Saturday was the 20th anniversary of Ron Hextall becoming the first goalie to actually score a goal. Here's Billy Smith getting credit for scoring a goal, because he was the last player to touch the puck.


Don Cherry meets a gay man?


PLAYER OF THE WEEK
Anze Kopitar two goals and six assists in four games this week for the struggling Kings. Imagine what this kid could do if he had a better supporting cast around him than just Mike Camalleri?


UPCOMING GAME OF INTEREST
Boston Bruins at Buffalo Sabres, Monday, December 10th, 7pm EST
Nothing like an old Adams Division match-up to begin our week. The Sabres have been struggling with the loss of Daniel Briere and Chris Drury, while the Bruins have been flying thanks to Tim Thomas and Chuck Kobasew. Alex Auld performed tremendously on Saturday night in Toronto, filling in for an injured Thomas. Can Auld do it again and begin making a name for himself in the league other than being "the guy who was traded for Roberto Luongo"?

GRATUITOUS PITTSBURGH PENGUINS RELATED AWESOMENESS
Highlights of Saturday's FANTASTIC game between the Canucks and Penguins. You had it all. Sidney Crosby. Roberto Luongo. Luongo stoning Crosby on an overtime penalty shot. Then, Kris Letang won it for Pittsburgh in the shootout.


I'll check you out next week for more "Puttin' On the Foil"