This Saturday, it's the end for George Parros. Well, not in that way, but his famously beloved shaggy hair and mustache will be cut off and donated to Locks of Love, a charity that donates hairpieces to little kids who have lost their hair from medical situations.
Parros' look is not because he's an eccentric guy, but because he makes yearly donation to Locks of Love. He is also encouraging Ducks fans to get their own hair cut and donated to the charity.
If you're wondering what a clean shaven Parros will look like, check out his headshot from his early day with the Los Angeles Kings.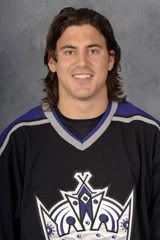 I'm sure that sales of Parros' fake mustache's will decline in the Ducks team store.
UPDATE
I believe I've heard that George just cut his hair and the mustache remains! Rejoice! If anyone has an update picture of Parros, please let me know.