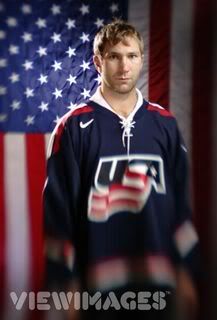 With the upcoming World Junior Champions in the Czech Republic beginning on Wednesday, I'm in a nationalistic mood today and decided to see what players might be heading to Vancouver for the 2010 Winter Olympics. Both the USA and Canada will be among the favorites in the tournament, though the Canucks will probably have the better chance of taking home the gold in three years time.
USA
Forwards
Paul Stastny
Patrick Kane
Zach Parise
Phil Kessel
Erik Cole
Brian Gionta
Chris Drury
Scott Gomez
Chris Higgins
Ryan Kesler
Dustin Brown
RJ Umberger
Jamie Langenbrunner
Matt Cullen
David Legwand
Defensemen
Mike Komisarek
Erik Johnson
Jack Johnson
John-Michael Liles
Mark Eaton
Ryan Whitney
Keith Ballard
Ryan Suter
Matt Carle
Goaltenders
Rick DiPietro
Ryan Miller
Tim Thomas
Notes
-There's still just over two years until the Olympics, so there's probably a few players who have either not been drafted yet or not made a name for themselves yet that will be on the final roster and/or taxi squad. Expect a couple of changes I'm sure.
-You may look at this roster and think "wow, that's a young team". Sure, right now it is, but while many of the guys are in their first couple of seasons now, they will be more mature and improved in two years time.
-There may not be as much "star" power as the Team Canada roster, but remember, it's not always about having the best players, it's the best team, especially in a short tournament as the Olympics. If the USA team can find the right chemistry, they can make some noise in Vancouver.
CANADA
Forwards
Sidney Crosby
Dany Heatley
Jason Spezza
Rick Nash
Vincent Lecavalier
Eric Staal
Jarome Iginla
Joe Thornton
Simon Gagne
Mike Richards
Jonathan Toews
Mike Cammalleri
Ryan Getzlaf
Defensemen
Dion Phaneuf
Jay Bouwmeester
Chris Pronger
Shea Weber
Dan Boyle
Robin Regehr
Brent Burns
Marc Staal
Goaltenders
Roberto Luongo
Carey Price
Martin Brodeur
Notes
-Frightening fact here is that Canada could easily put in two teams and be a favorite for the gold medal.
-It'll be interesting to see the debate over highly-touted youngster John Tavares, who won't be eligible for the NHL until the 2009-10 season. I'm sure we'll see something similar to what happened with Sidney Crosby in 2006 if Tavares plays like he has been hyped.
-The defense will be young, unlike in past years, but with the amount of firepower and strength in the net, that should not affect Canada greatly.
If you're one to believe Gary Bettman, the 2010 Olympics could be the last time we see NHL'ers participating, which to me, is not a bad thing. I'd like to see them either use juniors or amateurs in the tournament again. While Olympic hockey is amazing, it also tires players out and affects the NHL season. Want a star-studded hockey tournament? Then bring back the World Cup of Hockey again to be played every four years in August.