It was 48 years ago November 1st, that Jacques Plante donned the first goalie mask


While the National Hockey League will celebrate the 50th anniversary of Plante using the facemask in two years, it was actually Clint Benedict who was the first to use one in 1930. Benedict used his make-shift mask only twice, saying it affected his vision before ditching it. Plante decided he needed the protection when he took a shot off the face needing stitches. He came back with a mask that he practiced with. There in is the birth of the goalie mask.


Over the years, the goalie mask has evolved from just being a means of protecting its user, to very personal, with it's owner taking great pride in its' design. For every old school Jason Vorhees mask that was worn in the early days, there is one like John Vanbiesbrouck's, which featured tiny bee's flying around the New York city skyline. To honor the goalie mask, let's take a look at my top ten classic goalie masks. Disagree with my choices? Please share your own!


#10: Curt Ridley, Vancouver Canucks, 1976-78


#9: Gary "Cobra" Simmons, Cleveland Baron,1976-77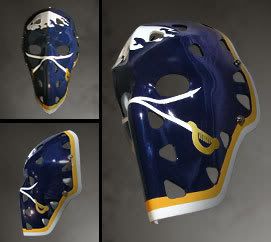 #8 Gerry Desjardins, Buffalo Sabres, 1977-78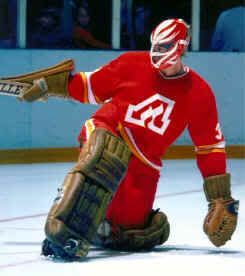 #7 Dan Bouchard, Atlanta Flames, 1976-77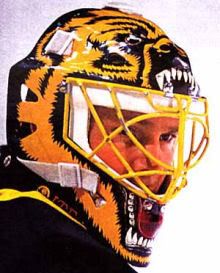 #6 Andy Moog, Boston Bruins, 1987-93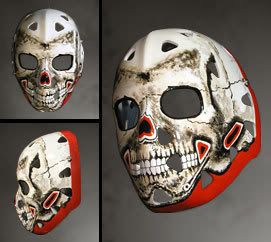 #5 Gary Bromley, Vancouver Canucks, 1980


#4 Brian Hayward, San Jose Sharks, 1991-93


#3 Jacques Plante, Montreal Canadiens, 1959


#2 Gilles Gratton, New York Rangers, 1976-77


Gerry Cheevers, Boston Bruins, 1975

"Cheevers' unusual stitch-pattern goaltender mask came after a puck hit him in the face during practice. Cheevers, never one to miss an opportunity to skip out of practice, went to the dressing room. Bruins coach Harry Sinden followed him to the dressing room, where he found Cheevers enjoying a beer and smoking a cigarette. Sinden told Cheevers, who wasn't injured, to get back on the ice. In jest, John Forestall, the team trainer, painted a stitch mark on his mask. Ever after, any time he was similarly struck, he would have a new stitch-mark painted on." (Wikipedia)


If you want to check out some other classic goalie masks, click on over to HockeyMasks.com, which sells custom masks which would look pretty damn cool in your adult hockey league.