For the 22nd season, the Penguins and the Make-A-Wish Foundation partnered up to allow sick kids meet their hockey idols. After attending a morning practice, the kids and the players had lunch together, with plenty of photo opportunities.
I just posted on a message board the following quote about an Alex Ovechkin story where he took time after a game to meet with a girl diagnosed with cancer:
"We need less Jiri Tlusty stories and more stories like this in the MSM.
It seems as if everyday there's always some athlete getting arrested, suspended, or mouthing off. These type of stories are saved for a short blurb in a newpaper or the last fifteen minutes of your favorite highlights show. While I realize that drama sells newspapers and headlines all news, it's nice to see stories like this to put things (and life) in perspective.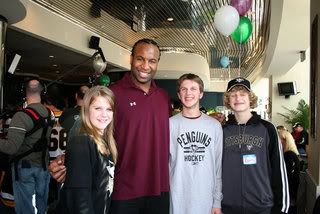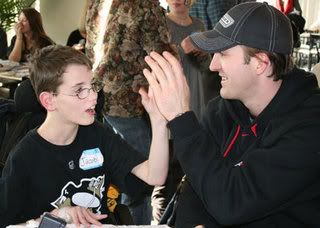 Pictures courtesy of
PittsburghPenguins.com