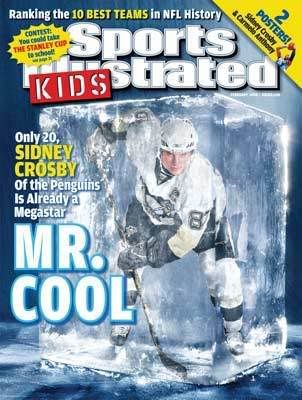 I knew the Penguins would finally land on their feet after this glorious 10-0-1 run of late, but I wasn't thinking it would be like this. Sidney Crosby injured his ankle early in the first period during their game with Tampa Bay tonight. FSN Pittsburgh's Bob Errey reported that Crosby could miss up to four weeks. EEK!
TSN
has the details:
"With the Penguins down 1-0 in the first period, Crosby skated down the right side towards the Lightning net and was pulled down from behind by defenceman Paul Ranger. Crosby and Ranger became tangled near the right circle in the Lightning end, with Crosby swiping at the puck as he fell on his behind.

He hit the boards with his right leg and his left leg raised and immediately held his right leg in pain. Crosby had to be helped to the runway by a team trainer.
Once everyone saw Sid slowly leave the ice, it pretty much deflated the entire Mellon Arena and his teammates. Former Pen Andre Roy had a career night with a goal and two assists and saw himself double his season point total.
Crosby will be evaluated in the morning and hopefully, we get a better prognosis. The Pens have been flying and this is not the best time to have a big injury to your best player and premier playmaker. This is a great time for guys like Petr Sykora, Jordan Staal, and Ryan Malone to step up their game and support Evgeni Malkin, who now becomes Pittsburgh's main scoring option on offense.