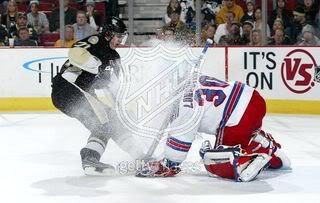 Last Friday, NHL general manager's voted on the reserves for the All Star game and left out in the Eastern Conference mix was Evgeni Malkin. When Dany Heatley injured his shoulder and it was announced he would be gone for 4-6 weeks, many speculated that Malkin would get the replacement nod. Today, it was announced that Marc Savard from the Bruins would be replacing Heatley, even though Malkin had 15 points more heading into tonight's game against the Rangers.
Well, Geno played with quite a chip on his shoulder tonight as he notched his second hat-trick in less than two weeks in a 4-1 win over New York. Not to mention, he also gave Henrik Lundqvist this nice snow shower.
Malkin may have had a great game, but Michal Rozsival had a rough first period. After speaking to Malkin moments after Lundqvist's snow shower, the hat-trick hero sent him flying into the corner with a nice hip check. Later, he took a high-stick near the eye after Jaromir Jagr lifted a Pittsburgh player's stick. The topper was the penalty Rozsival took to give the Penguins a 5-on-3 power-player, which ended in a Sergei Gonchar one-timer hitting the back of the net.
Here's hoping if another Eastern Conference forward is forced to miss the All-Star game, Branislav Mezei or Sheldon Brookbank already have prior engagements.