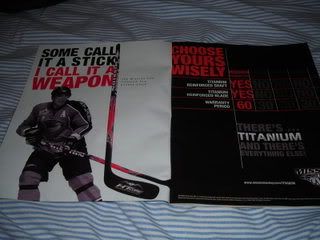 Opening up this month's
USA Hockey
magazine and I had to do a double-take while flipping through the first couple of pages. The Mission Hockey ad featuring Marian Hossa caught my eye and not because it featured a group of puck bunnies, but because of the wording of their print ad.
"Some call it a stick. I call it a weapon"
Well, if you're Chris Simon, Dino Ciccarelli, Jesse Boulerice, or Mattias Ohlund, yes, yes it is.