Beginning Friday night is All Star Weekend for the NHL. The weekend ends on Sunday night with the 56th National Hockey League All Star game. With hockey jerseys being revered by many fans, I decided to sit down and list some of my favorite All Star jerseys.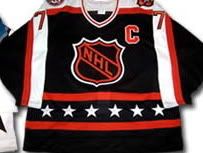 1991 - Chicago - Campbell Conference 11-5 winners - MVP: Vincent Damphousse
This game is probably better known for the stunning rendition of the National Anthem by Wayne Messmer.
Sold colors with the bold NHL logo on the front. Not plain at all.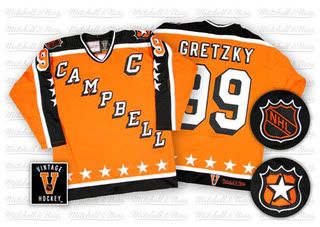 1984 - New Jersey - Wales Conference 7-6 winners - MVP: Don Maloney
In his first All Star Game, Don Maloney records a goal and three assists.
You've gotta love the old school Wales/Campbell jerseys. Yes, they had orange in them, but there's something about these jersey's that remain timeless.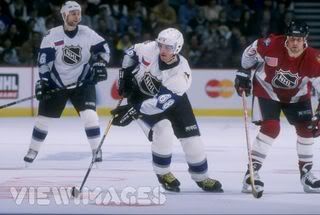 1998 - Vancouver - North America 8-7 winners - MVP: Teemu Selanne
The first North America/World showcase as the Nagano Olympics were weeks away.
I'm a big fan of the mix of colors the league used here. The silver NHL logo looks sharp with either the red or blue colors of the North America and World jerseys.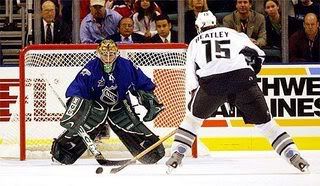 2003 - Florida - Western Conference 6-5 winners in a shootout - MVP: Dany Heatley
This game is best remembered not by Heatley's 4 goal, 1 assist performance, but because it was decided by a shootout, delighting the fans in attendance.
Solid look with the blue and white jerseys.
1988 - St. Louis - Wales Conference 6-5 winners in overtime - MVP: Mario Lemieux
The first All Star Game to be decided by overtime. Super Mario had a six-point performance which included a hat-trick and the game winning goal in the extra period.
Once again, the orange and black is priceless. Despite no Wales/Campbell logo on the front, the NHL logo does not take anything away from the overall look.
Those are some of my favorites. I'd love to hear what yours are and why. Also, include a link to a photo of your favorite All Star jersey in the comments too.
Thanks to
NHL Uniforms
and
Legends of Hockey
for some of the photos.