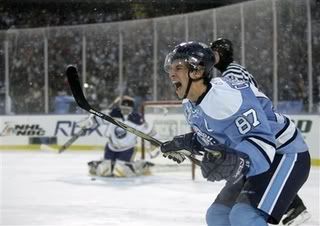 Still want to own Sidney Crosby's Winter Classic jersey? Maybe one of his Penguin teammates or a member of the Buffalo Sabres? Well, head on over to
NHL Auctions
for the exclusive game-used jersey thanks to MeiGrey, which we spoke about
here.
The auction began today and runs until January 17th. Currently, the only Crosby jersey up is the one he wore in the 2nd period which the bidding is already
up to $7719!
I have a feeling that the jersey's from the 1st period was kept by Sid and the 3rd period/overtime/shootout jersey will be donated to the Hall of Fame. Just my guess. I can only imagine how much the final jersey would even go for.
Other than game-used and game-issued jersey's (jersey's made up for players that did not participate. ex:
Max Talbot
), you'll find various pant shells of players, but the coolest item has to be the game-worn
goalie mask of Ryan Miller
, which also include the stocking he wore over it and the winner has the option of having it autographed. This is the only auction that will benefit the Steadfast and Buffalo Sabres Foundations, at least that's the read from all of the item descriptions.
I'm interested to see what other items might be put on NHL Auctions from the Winter Classic. MeiGray's deal said it was just pant shells, jersey's, and pucks (yet to be posted). I'd love to see player sticks available as those would sell extremely well. What about Dany Sabourin's game-issued (practice worn) old-school brown pads? Lindy Ruff's retro-Sabres jacket? NHL "Ice Man" Dan Craig's C02 container?
UPDATE
: The NHL and MeiGray have posted pucks on the Auctions website. The most valuable puck will definitely be the
puck scored by Sidney Crosby
to the win the game in the shoot-out, which is up to $615 right now. Also listed are the goal pucks from Sidney Crosby and Brian Campbell as well as regular game-used pucks from throughout the game.