Beginning Friday night is All Star Weekend for the NHL. The weekend ends on Sunday night with the 56th National Hockey League All Star game. With hockey jersey's being revered by many fans, I decided to sit down and list of my favorite and the worst All Star jerseys. We've seen
my favorite
, now let's take a look at what I think are some of the worst All Star jerseys.
2004 - Minnesota - Eastern Conference 6-5 winners - MVP: Joe Sakic
Ho-hum game that saw Joe Sakic notch a hat-trick
The jersey's were designed to look similar to those of the Minnesota Wild. Lame. The mix of the colors with the plain, boring EASTERN and WESTERN along the front made for a terrible look.
1972 - Minnesota - Eastern Conference 3-2 winners - MVP: Bobby Orr
Wow. Just plain bad. Seriously. The NHL logo's on the breast really look like booby tassles a stripper would wear.

2008 - Atlanta
I first look at these jerseys and think they are incredibly plain and boring. What I hate the most is how the conferences are named as "EAST" and "WEST", invoking the image of an NBA All Star jersey.
1982 - Washington - Wales Conference 4-2 winners - MVP: Mike Bossy
These jersey's look like some sort of birthday or New Year's celebration hat with the crazy amount of stars all over it. For whatever reason, when I look at this jersey, I think of "Birthday Cake" ice cream from Cold Stone.
2000 - Toronto - World All Stars 9-4 winners - MVP: Pavel Bure
The biggest event during this All Star Weekend was the league-wide retirement of Wane Gretzky's #99. Pavel recorded a hat-trick, with two of the assists going to his brother Valeri.
The red and blue jerseys wouldn't be so bad if they had filled in that empty space in along the front. There's something missing from this set and I wish they would have just put NORTH AMERICAN and WORLD across the front there.
1994 - New York City - Eastern Conference 9-8 winners - MVP: Mike Richter
Richter brought Ranger fans to their feet stopping 19 of 21 shots and taking home the MVP honors. Later that season, Richter would help lift the Cup in the same building.
The purple and teal colors they used for these jerseys was just ugly. Not to mention the Dallas Stars design in the shape of an actual star on the front. Yikes.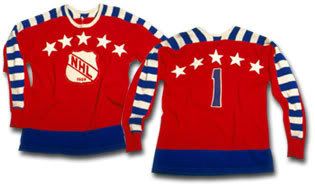 1949 - Toronto - All Stars 3-1 winners of Toronto Maple Leafs
Before 1968, the defending Stanley Cup champions would play the league All Stars.
These uniforms were also used in the 1992 All Star Game in Philadelphia. It's a nice try, but I can't help but think of a carnival barker when I see these. To think Maurice Richard donned one of these jersey's instead of the Canadiens jersey for a day makes me want to puke.
There you have it, my worst All Star jerseys. If you have an All Star game jersey that's just as horrendous, post it in the comments.
Thanks to
NHL Uniforms
and
Legends of Hockey
for some of the photos.