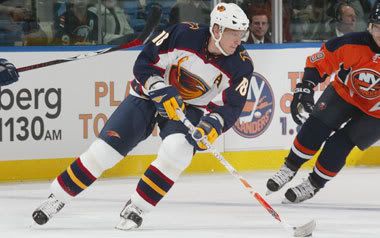 The Penguins made the biggest and most controversial splash today before the trade deadline. Fans on both sides love and hate this deal. Some feel it's enough for a deep playoff run. Some feel as if GM Ray Shero will get burned and be left with nothing come July 1. I personally like the deal. I don't love it, but I like it.
You make these types of deals to put your team over the top and to put them in a better position to win the Stanley Cup come June.
There can be arguing for the rest of the season about this deal. If it results in a Stanley Cup for Pittsburgh, then Shero is a genius. If the Pens fall short, he's a moron. It's a risk and it's the type of risk general managers sometimes have to take in order to reach that last step.
What did the Penguins give up? A couple of decent role players.
I love Colby Armstrong and will miss his hilarious personality, but the production just was not there.
Erik Christensen possesses the skills to be a better player than his stats showed, he just might need a different place to mature as a player.
The first-round pick will be a high one, probably in the mid-late 20's. That's fine. The Penguins have enough young talent right now and can always acquire draft picks through other deals in the off-season.
I was excited for Angelo Esposito to fall into the laps of Pittsburgh last June at the draft. I'll definitely be following his career, but it was really a numbers game. How many center do the Penguins really need?
Let's not forget that the biggest acquisition for the Pittsburgh will be when Sidney Crosby is finally back. The way the team is rolling, it'll be the "greatest show on ice" if they're firing on all cylinders. Ray Shero did his job today and put the Penguins in the best position to win the Stanley Cup this season. He can't worry too greatly about the future. Pittsburgh has the parts to win now and Shero is trying to capitalize on that. It may work. It may all blow up in his face. That's the part that isn't up to him.
So what if Hossa walks on July 1? They still have Evgeni Malkin, Crosby, Ryan Whitney, amongst others in that lineup. Losing Hossa, Christensen, and Armstrong will not collapse this team. Shero will be able to fill holes and be able to re-sign guys like Malkin, Jordan Staal, Marc-Andre Fleury long-term with freed up money. It'll be okay Penguin fans. It's almost better that Hossa went to Pittsburgh instead of a place like say, Montreal. Then they'd be the darlings of the Eastern Conference.
We can't evaluate this trade until we see how the rest of the season finishes and how Christensen, Esposito and Armstrong pan out in their careers. In the meantime, the Penguins are serious Stanley Cup contenders. Sit back and enjoy the show.