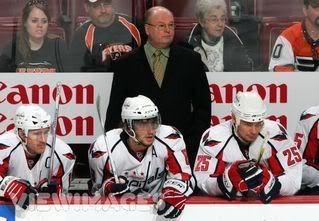 Whew. That was quite the Super Bowl hangover I had. I'm still in shock. Still sort of don't believe it actually happened. But, now that football season is over, focus can be shifted solely on hockey. Sweet!
This season, the NHL has shifted it's "darling" title from the Atlanta Thrashers after they fired Bob Hartley to the Phoenix Coyotes once they nabbed Ilya Bryzgalov off the waiver wire to the Pittsburgh Penguins when they were riding the ConkTrain, to now, the Washington Capitals, who are led by the most exciting player in the league, Alex Ovechkin.
Since coach Bruce Boudreau took over after American Thanksgiving, Washington has been soaring up the Eastern Conference standings. After their 4-3 win against Philadelphia last night, the Capitals now sit atop the Southeast Division and are holding the third overall seed in the Eastern Conference (thanks to that stupid rule that gives division winners the top three seeds. Hell, they'd be tied for the 8th spot if that wasn't in place). If there's not a more obvious choice for the Jack Adams Trophy, than I don't know what else to say. Some might argue that Wayne Gretzky should have a chance, but he was only saved when the Coyotes picked up Bryzgalov. Boudreau has pretty much the same team he started with, sans Michael Nylander and Chris Clark. He's been helped by the emergence of defenseman Mike Green and the torrid scoring pace of Ovechkin, who now has 46 goals in 54 goals.
Whatever Boudreau has done since he took over the reigns in November is the complete opposite of what Glen Hanlon was doing. After a 6-14-1 start, general manager George McPhee canned Hanlon and gave Boudreau the interim title. After early success, the "interim" was removed. It's been obvious that the new coach has made the Capitals his team, whether the players agreed with him or not. Boudreau was not afraid to yank Olie Kolzig, the stalwart goaltender and change up the lines to introduce a more open-style of hockey. Everything he's done so far, has paid off. Washington is marching towards their first playoff berth since the 2002-03 season after three straight last place finishes in the Southeaste Division.
Caps fans are pumped and they have plenty of reason to be. It's been a pretty good month for them. They sign Ovechkin for 13-years and now, their team is coming together at the right time. The supporting cast for AO was something that the team has needed and it seems as if it's arrived.
DISCLAIMER: As a Penguins fans, writing this post truly made me sick to my stomach, as true as it all is.