If you're a hockey fan you certainly know who Don Cherry is, even if you don't have the NHL Center Ice package, in which case you've probably seen one of his
Rock Em Sock Em Hockey
videos. Besides being an
outspoken and controversial pundit
, Cherry is adored all over Canada and was even named one of the greatest Canadians ever.
The second you see Cherry, there's one thing that instantly pops into your head: "What the hell is he wearing?" Yes, Cherry is a connoisseur of the flashy suit and isn't afraid to sport a number that would burn your retinas. So, in honor of Don Cherry's fashionable wardrobe, I decided to scour the internets and find my "Top Ten Don Cherry Suits".
#10
A simple plaid looking suit that will remind you of Groundskeeper Willie's kilt. And how can you go wrong with a picture of his dog Blue?
#9
When I look at this suit, I feel like it's some sort of optical illusion and that I should be looking for a vase or a face within it.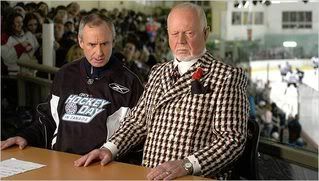 #8
A sharp suit here that resembles one of the bar codes on the back of a Rock Em Sock Em DVD. Nothing better than seeing Grapes give it to the refs during the Top Prospects game.
#7
The scotch tape look splashed with some yellow. Easily spotted from four miles away.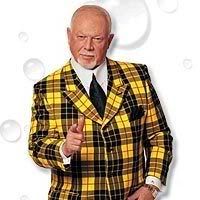 #6
A sweet Mafia-esque getup here. Brett Hull is contemplating how heavy he'd like his cement shoes to be in that picture during last spring's Stanley Cup Finals.
#5
A lovely lavender number here. Ron McLean is frozen by the beauty of the mixture of lavender and pink.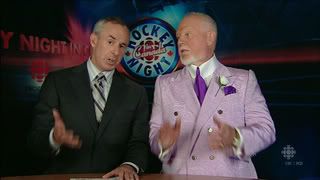 #4
Cannot help but think: Used car salesman. Bud Selig. Tied All Star games.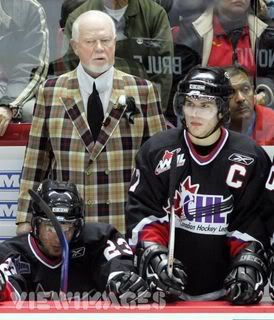 #3
Part Hawaiian. Part bad ass m'fer. That's a stare that'll flatten the hair on Kerry Fraser's coif.
#2
I'm not sure how the upcoming
Dark Knight
Batman movie ends, but if they're looking for a new Joker character...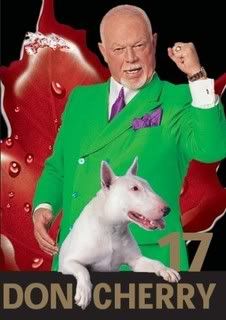 #1
I just don't know what the hell is going on with this one. Are those backgammon chips? Railroad wheels? Jukebox cd's? There's so much going on in that suit, the busyness of it makes my head want to explode.
Do you have a Don Cherry suit that didn't make the list? Well, then find a picture and post it in the comments. I'm eagerly awaiting what type of suit Cherry will don tomorrow during Hockey Day in Canada.