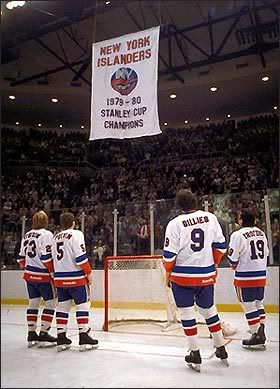 The New York Islanders put their franchise on the map on May 24, 1980 at 7:11 of overtime when Bobby Nystrom scored to win the Stanley Cup. They cemented their place in hockey and sports lore when they captured their fourth consecutive championship three years later. Since those glory years, the Islanders have gotten past the first round of the playoffs only four times. In the 1990's, they had a seven year streak of not qualifying for the post-season. In each of the last five times they've made the playoffs, they've been bounced out early.
Today, Long Island's only professional sports franchise sits five points out of the final playoff spot in the Eastern Conference. Their arena, Nassau Veterans Memorial Coliseum, is an old, outdated barn that opened in 1972. While, I enjoy watching a game there, from a business standpoint, it clearly needs a face-lift. Owner Charles Wang is trying to push his
Lighthouse Project
, but there is no clear answer whether or not that will come to fruition.
While Islander fans wait for a new arena, they also stay away from their current one. Since the lockout ended, the Islanders have been ranked
30th, 28th, and currently 30th in league-wide average attendance
. When the Rangers are in town (like this week for example), often times the Nassau Coliseum turns into Madison Square Garden-East. I'm sure many fans are bitter from the "Mad" Mike Milbury days and the trading of talent like Zdeno Chara and Roberto Luongo. The turmoil from a few summers ago when Neil Smith spent 40 days on the job before being fired and Pat LaFontaine, a senior adviser to Wang, resigned abruptly amid all the madness, certainly didn't help.
It's the combination of off-ice issues as well as on-the-ice problems that have caused the Islanders marketing department to focus on their great history in order to convince fans to forget about their present.
Two years ago, the Islanders honored their 1980 Stanley Cup team with a great weekend of events and a tremendous on-ice ceremony. Before the ceremony, the entire team in attendance walked from the nearby Marriott hotel along a red carpet which was called the "Walk of Champions". Fans greeted the players as they made the short trek into the arena.
At the beginning of last season, the Islanders introduced their "Hall of Fame", which will basically honor those former players that are not worthy of having their numbers retired. Their first inductee that did not have his number retired already, was Bob Bourne.
This past summer, head coach Ted Nolan invited legendary bench boss Al Arbour to coach one last game, his 1500th in the National Hockey League. After the 3-2 win (Arbour's 740th of his career) over Pittsburgh, the Islanders
raised a banner to the rafters
honoring the milestone.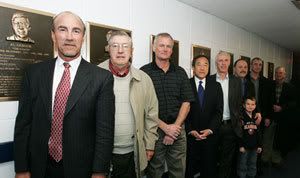 Beginning this week, the Islanders began their "Core of the Four" weekend, honoring th 17 players who were apart of all four Stanley Cup teams of the 1980's. Friday, owner Charles Wang unveiled
Yankee-like plaques
of their Hall of Fame members along the walls of the locker room area. The weekend culminated in an on-ice ceremony yesterday afternoon before their game with the Florida Panthers.
All these events have been successful in garnering great publicity and sold out crowds, but it's also putting aside the fact that their current on-ice product is far, far away from what those great teams of the 1980's accomplished.
After Ryan Smyth bolted Long Island (for less money) on July 1, the first day unrestricted free agents could be signed, the question arose whether or not the Nassau Coliseum and the teams' training facilities were the reason. That is probably one of the top reasons why the Islanders roster looks more like a glorified minor league team than actual Cup contender. Ted Nolan is a great coach. He gets more out of his players than anyone would expect. The fact that the Islanders are in the playoff hunt is a testament to his coaching genius. Just think if Nolan had some great players to work with?
If facilities are the problem with no solution in the near-future, is it time for Wang and general manager Garth Snow to start overpaying for players in order to attract fans to the building? Overpaying as in $7.8 million-Brad Richards overpaying, not $1 million more to Ryan Smyth. Of course, I'm talking about free agents that would be more than worth overpaying for, not as in cases like Alexei Yashin or Michael Peca. Kevin Lowe might have opened up a Pandora's Box with his offer-sheet shenanigans this past summer. Might Garth Snow have to follow Lowe's lead to keep his team above water?
With a new arena in doubt, other than slashing ticket prices in half, this might be the only way for the Islanders to continue to survive on Long Island. At this rate, this storied franchise might find itself loading up the Mayflower trucks and heading to an empty arena in Kansas City that is looking for a professional franchise.
Many might disagree and think the Islanders aren't anything special, but their absence would leave a large void in one of the biggest hockey markets in North America. With Commissioner Gary Bettman being a born and bred New Yorker, he has a vested interest in the New York market. He stated on his radio show last Thursday that the Islander are in need of a new arena. More than likely, he'll get involved in arena talks between Wang, Nassau County, and the Town of Hempstead if things don't progress quick enough.
How soon that will happen is anyones guess.
The dwindling attendance numbers prove that Islander fans aren't keen to continue to support a mediocre product that is on display nightly at the Nassau Coliseum.
Photos courtesy of Legends of Hockey and New York Islanders