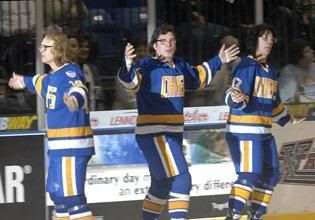 MONOLOGUE
No monologue this week. I'm still coming down from my Super Bowl high. Still in disbelief that the Giants won, I'm going to take the week off.
NEWS AND NOTES

The Calgary Flames locked up Dion Phaneuf to a 6-year deal this week, worth $39 million. Now that the Flames have Phaneuf, Miika Kiprusoff, Jarome Iginla, and Robyn Regehr signed long-term, it's up to Mike Keenan to get the most out of his player.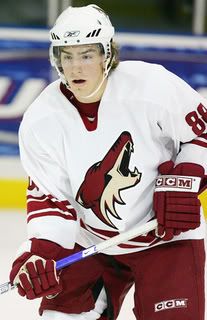 Peter Mueller was named "Rookie of the Month" for January, helping the Phoenix Coyotes climb the Western Conference standings. Mueller scored 6 goals and 8 assists helping to lead the team to a 9-4-1 record.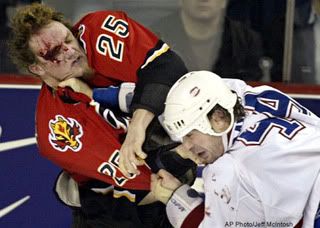 Former Detroit Red Wing, Darren McCarty signed with the Grand Rapids Griffins of the AHL, moving another step closing to making a NHL comeback. McCarty had been playing with the Flint Generals of the IHL and tallied six points in 11 games before the Griffins came calling.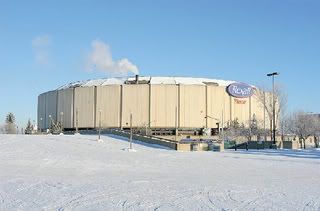 Now that he's successfully bought the Edmonton Oilers, Daryl Katz now must decide to build a new arena or upgrade their current home, Rexall Place. Katz has said he'd pledge $100 million towards a new arena to be built as soon as possible.

AROUND THE BLOG WORLD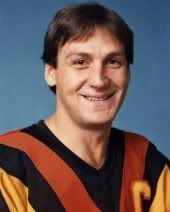 What are the best names in hockey? Puck That Hit breaks them down in a "Top 10" version. Above is my favorite of all time: Stan Smyl.



Something missing from your life? Well, The Pens Blog has a store now. Rejoice! Get all of your "Bing", "WWGRD", and "ConkBlock City" gear now.



How awesome if Alex Ovechkin's scoring prowess this season? James Mirtle does what he does best and breaks down some numbers.



Who wouldn't want Brian Campbell at the trade deadline? He'll give a team blueline help as well as help selling your wares. Jeff Klein of the NY Times Slap Shot Blog explains.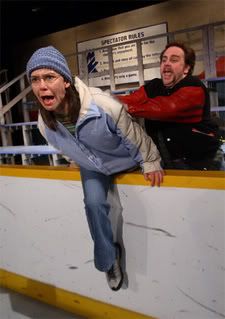 Parents of kids involved in sports are just plain psycho. NHL FanHouse's Greg Wyshynski gives us another sad tale.

LET'S GO TO THE VIDEOTAPE!
Teemu Selanne does not react well to a Dimitri Mironov hit along the boards.

MacDonald's Canada has a pretty funny commercial starring the world's smallest goalie.

An ESPN story about the first African American hockey league. Very interesting stuff.

A nice goal from the hottest free agent out there, Fabian Brunnstrom of Sweden.

PLAYER OF THE WEEK
Jason Spezza had a very productive week scoring 4 goals and 7 assists, including a 6-point night yesterday.

UPCOMING GAME OF INTEREST
Washington Capitals at Atlanta Thrashers, Wednesday, February 13, 7pm EST
The Southeast Division title will be a hard-fought battle for the rest of the season and the division leader/number three seed in the Eastern Conference will probably change every other night. The Caps have been flying and the Ovechkin/Kovalchuk matchup should be every bit exciting.

GRATUITOUS PITTSBURGH PENGUINS RELATED AWESOMENESS
Matthew Barnaby gets into a good fight with Byron Ritchie, then comes off hte ice to take a bow.

Next week I'll be back with another "Puttin' on the Foil".