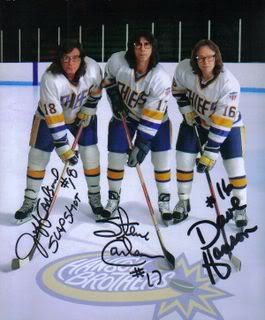 MONOLOGUE
Some USA Hockey facts with this being "Hockey Weekend Across America"
-Approximately 600,000 USA Hockey members ranging in ages from 2 to 80.
-Last year, adult hockey registrations surpassed 100,000, a growth of over 36% in two years.
-There are 217 NCAA Divison I men's and women's varsity teams and another 373 in the American College Hockey Association.
-The total number of girls/women playing hockey has increased 103% in the last ten years.
-Team USA has won six medals in the past four years. The USA juniors, inline (2), women, and U18 men (2) have all left competitions with medals.
-During the 1976-77 NHL season, there were 40 US-born players in the league. Last season, there were 202 Americans playing in the NHL.
-USA Hockey magazine has the highest circulation of 430,000 in the world.
-There were 63 Americans selected in the 2007 NHL Draft, 30% of all draftees, the highest in Entry Draft history.
-There have been 6 US-born players selected first overall in the NHL Entry Draft, starting with Brian Lawton in 1983.
NEWS AND NOTES

Great news yesterday as Panthers forward Richard Zednik was released from a Buffalo hospital five days after suffering the gruesome slice of the neck during a game on Sunday night. "I want everyone to know that I am recovering and feeling well and hope to return to the ice as soon as I feel medically fit." Hopefully, he can return at 100% very soon.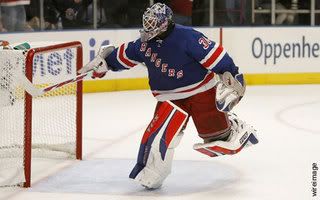 The Rangers locked up Henrik Lundqvist this week to a "6-year, $41.25 million deal, keeping the Swede a Blue Shirt until 2014.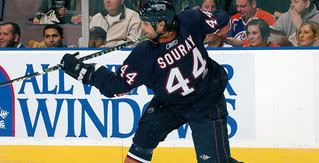 Talk about kharma. Kevin Lowe pulls a fast one on Brian Burke by signing Dustin Penner. Now, Lowe's big off-season signing Sheldon Souray will miss the rest of the season with a nagging shoulder injury. The former Hab only contributed 10 points in 26 games.



Looks like the Kris Beech era in Pittsburgh has come to yet, another end. Beech apparently broke his wrist and is out indefinitely. Someday, Beech will be able to own a team's jersey for more than a few months.

AROUND THE BLOG WORLD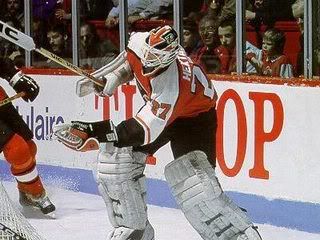 Does Flyers owner Ed Snider walk around with his wallet open? Greg Wyshynskiof NHL FanHouse informs us that Philadelphia was fined because their ceremony for Ron Hextall the other night ran too long.



The Senators 2D logos finds its way onto some pretty cool hats. NHL Tournament of Logos also shows us some St. Patrick's Day apparel from Ottawa.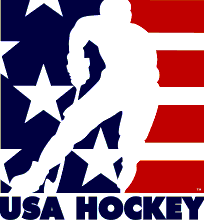 How can USA Hockey take home the gold at the 2010 Vancouver Olympics? Eric McErlain starts from the top and wants to see youth being served.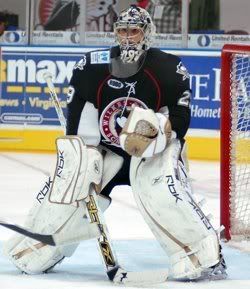 Marc-Andre Fleury made his return this week in a rehab stint for Wilkes-Barre of the AHL. The big change for "Flower"? He ditched the bright yellow bads for white ones. Faceoff Factor has a slideshow of the game.



What's Mats Sundin to do? Should he stay or go? Lowetide breaks down another article about the possible trade of Toronto's captain.

LET'S GO TO THE VIDEOTAPE!
All of the goals from Game 3 of the 1996 World Cup of Hockey, which was won by the US.

USA defeats Canada to win the 2004 IIHF World Junior Championships.

Mike Modano's sets the record for the most points by an American born player.

Last night's Coach's Corner with Don Cherry and Ron McLean from Hockey Night in Canada.

PLAYER OF THE WEEK
Carey Price was brought back up to Montreal and contributed two wins, a shutout, and a 0.50 goals against average this week.

UPCOMING GAME OF INTEREST
Detroit Red Wings at Colorado Avalanche, Monday, February 18, 8pm EST
A rivalry renewed. The Red Wings are in a bit of a slump, but still sit comfortably atop the Western Conference standings. The Avs are fighting for their playoff lives and ravaged with injuries. Would a big win by Colorado be the spark that helps get them on a roll towards the playoffs?

GRATUITOUS PITTSBURGH PENGUINS RELATED AWESOMENESS
A young Jaromir Jagr during the locker room celebration after Pittsburgh won the 1992 Stanley Cup. Couple of awesome things here: 1) Paul Steigerwald with hair! 2) Jagr taking the mic for himself. 3) Jagr saying Joey Mullen isn't better than him. Classic.

Be back again next week for more "Puttin' on the Foil".