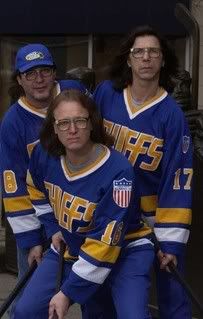 MONOLOGUE
I love the NHL Network. Between that, NHL Center Ice, Fox Soccer Channel and trying to find "The Wire" on one of the seven HBO's I have, it's turned into my default channel. "NHL on the Fly" is a welcomed addition for all hockey fans who have NHL Network. The fact that they just show the complete highlights, along with using the games' play-by-play call like the Barclay's Premier League highlight show is brilliant. There's just one thing I wish they'd change on the show.
Their extended highlights need to be a little bit longer.
What I mean is that sometimes during a highlight package, there will be a great save, big hit, or a scoring chance that trickles near the goal line and instead of showing a replay of it, they just cut to the next part of the game. If you didn't read a recap of the game and are watching the highlights and getting game information for the first time, you'll find yourself lost. A great example is Monday night, after the Red Wings-Avalanche game where Nicklas Lidstrom. The "On the Fly" highlight package showed the hit on Lidstrom and him struggling to get and skate to the bench, but there was no extra highlight of the announcers telling us he was leaving the game and the what the injury was. When I first saw the hit, I sort of thought Lidstrom might have suffered a concussion just from watching him attempt to get up and skate. It was when the highlights were over that the "On the Fly" host informed me that it was Lidstrom's knee that was injured.
Whatever. Just a small minor beef. Not really a complaint, just a suggestion. NHL Network is the greatest acquisition to my satellite television package since NHL Center Ice made its way in 2005. Is there anything better than randomly turning it on and the "Top 10 Mario Lemieux Goals" is playing?
NEWS AND NOTES

We're coming down to the wire in the Mats Sundin sweepstakes and right now, the Maple Leafs are still trying to figure out what to do before the Tuesday deadline. It might be in the best interest in the club to try and trade Sundin, get what they can for him, then try and sign him in the off-season when he is an unrestricted free agent.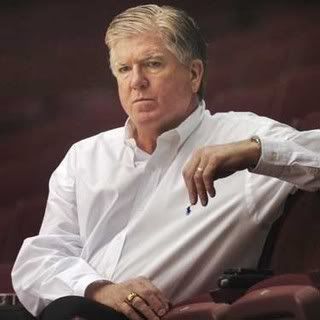 Brian Burke is a big fan of one minute penalties in overtime as discussed during this week's general manager meetings in Naples, Florida. He doesn't want to see 4-on-3 power-plays take up most of the overtime session. Well, if you don't want to see that Brian, tell your players to stop taking penalties in the extra session. Burke is a smart man, but I think this is a dumb idea. You take a penalty in overtime, you should reap the consequences of two-minutes with a man down.



Sidney Crosby's rehab is still going as scheduled. Yesterday, he did not practice and the five-week mark since his ankle injury against Tampa Bay.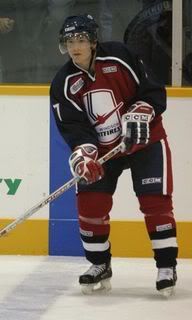 Sad news in the hockey world this week as Windsor Spitfires captain and Calgary Flames prospect, Mickey Renaud collapsed and died at his home. The 19 year old was drafted by Calgary last June in the fifth round.

AROUND THE BLOG WORLD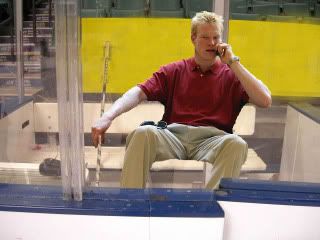 Puck That hit puts on their stat geek hats and brings us another interesting post. They break down penalty minutes and how much are those penalties costing teams per player.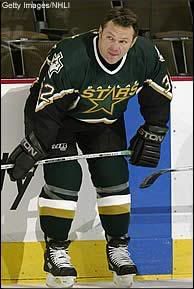 Everyone loves heroes. But, Ask Men gives us the "Top 10 NHL Villains".



Michael Dell, notable Red Wings hater, over at LCS Hockey is really, really enjoying this little slide that Detroit is going through right now.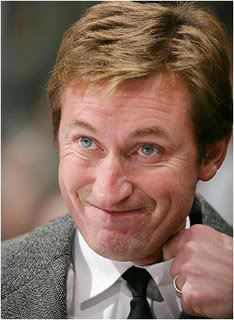 For you Wayne Gretzky fans out there, Barry Melrose Rocks gives us the many faces of the Great One.



In what might possibly be the greatest sports blog posting of all time, the boys over at The Pens Blog discuss the Ty Conklin v. Marc-Andre Fleury situation in Pittsburgh Law & Order style. All rise for the Honorable Pensblog Charlie (watch your butts).

LET'S GO TO THE VIDEOTAPE!
Disco goalposts. That's all I need to say.

Andrei Kostitsyn scores an Ovechkin-like goal against Philadelphia.

Barry Melrose and Clark Gillies get into a little bit of a scrap.

Last night's Coach's Corner with Don Cherry and Ron McLean from Hockey Night in Canada.

PLAYER OF THE WEEK
Evgeni Malkin continues to carry Pittsburgh in the absence of Sidney Crosby. Geno put in two goals and added five assists and was a +3 as the Pens went 3-1 this week.

UPCOMING GAME OF INTEREST
Toronto Maple Leafs at Ottawa Senators, Monday, February 25, 7:30pm EST
Will this be Mats Sundin final game in a Maple Leafs uniform? Can the Senators get their season back on track after a few hiccups over the last few weeks? Is it possible Ray Emery gets pulled over and is late yet again? If Cliff Fletcher makes the trade during the game, will the rest of the game be ignored? Will the Canadian media explode with all the story lines during this game?

GRATUITOUS PITTSBURGH PENGUINS RELATED AWESOMENESS
Wayne Gretzky's first visit to Civic Arena proved to be a boxing match. There were 267 total penalty minutes assessed. One Penguins player, Russ Anderson, tallied 51 minutes himself. Glen Sather almost goes after fans. Girls are crying! Oh my! In the words of the WWE's Jim Ross, it was a slobberknocker.

Be back again next week for more "Puttin' on the Foil".