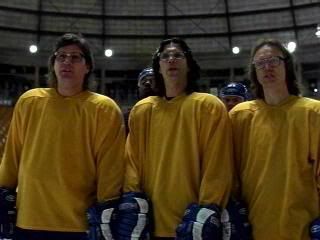 MONOLOGUE
Today's monologue is all about football.
It's Super Bowl Sunday and my New York Giants are going for glory in just a few hours. This has been a very up and down season for Big Blue and the three playoff games have been such a pull on my emotions. The Green Bay game probably did some damage to my heart with the ups and downs.
As for my prediction, this one is tough. Had the Giants not played New England tight in Week 17, I probably would give the Pats a bigger edge. I cannot help but think about how consistent New York has played the past three weeks. They beat three division champions, three former Super Bowl champions, and two teams that defeated them during the regular season. Right now, Eli Manning is playing great and we all know that could go away in a split second.
Looming on the other sideline is of course the Patriots. The great, undefeated Patriots and their mastermind of a coach, Bill Belichick. You cannot just outright say the Giants are going to win. It's impossible. They are facing a legendary team and to think that because Tom Brady had a bad AFC Championship, he's shaky, is just a joke. New England has been here before. Only two Giants have played in a Super Bowl. The Pats know what to expect and how to deal with the media and hype. Of course, once the ball is kicked at 6:18, it's back to football. No more hype. No more talk.
I've thought a lot about this game and I truly believe the Giants are going to be destiny's darlings tonight. Sure, I may have my homer hat on, but how the hell can I pick against my team in the Super Bowl? 30-27 Giants. MVP Eli Manning.
My goodness. Who would have even thought of predicting that ten weeks ago?
NEWS AND NOTES

Legendary Montreal Canadien and Hockey Fall of Famer, Guy LaFleur, turned himself in to police custody after a warrant was issued in regards to an accusation he gave contradicting testimony at his son's bail hearing. LaFleur's son, Mark, faces more than 20 charges from armed assault, sexually assaulting a minor, and forceable confinement.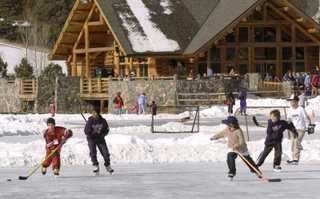 To celebrate the 100th anniversary of the International Ice Hockey Federation, USA Hockey will be holding a 24-hour hockey game throughout the 50 states. "Each of the lower 48 states will play a 30-minute running-time game in succession, beginning in Maine at 12 noon ET on Feb. 29 (see complete schedule below). Hawaii and Alaska will both play a 30-minute running-time "overtime" game with the 24-Hour Game ending at 1 p.m. ET in Hawaii on Saturday, March 1."



The never-ending saga of Peter Forsberg took another turn this week as the Swede turned down an offer Modo of the Swedish Elite League, because he wants to return to the NHL this season. If Foppa is to return to the league, he has until February 26th to sign as that is the deadline for players to sign and be eligible for the playoffs.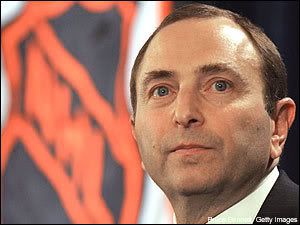 This week, Gary Bettman celebrated the 15th anniversary of his hiring as NHL commissioner. There have been many, many changes, ups and downs since February 1, 1993. It should be interesting to see, when Bettman is gone, what his legacy will be. The lock-out(s)? Something we have yet to see?

AROUND THE BLOG WORLD


Skate 2 Stick takes some time to write Denis Savard and Rocky Wirtz a letter, hoping that Martin Havlat and Robert Lang leave the team sometime soon.



"Does parity in the standings lead to parity in the Stanley Cup odds?" That's the question that Illegal Curve asks and then does some research.



Congratulations are in order for Gary Bettman, as per Jibblescribbits for not getting the okay from the NHLPA to to play games in Europe next season.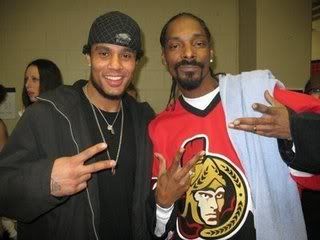 Would it be worth it for a team to take a chance on Ray Emery before the February 26th trade deadline? Mike Chen explores that thought.



LCS Hockey throws some love in the direction of Bruins goalie Tim Thomas.

LET'S GO TO THE VIDEOTAPE!
Player gets stoned in the shootout. Goalie does his best soccer celebration. (thanks to Southern Bohemian Ho(c)ke(y) with the find).

The NHL's best hits, goals, and saves from the past week..

Minnesota's Willi Plett slashes Detroit's Greg Stefan in the head with his stick. Plett was later suspended 8 games.

A Canucks fan gives Roberto Luongo some advice.

PLAYER OF THE WEEK
Nicklas Lidstrom, the always reliable and steady defenseman added a goal and 4 assists to his career totals as well as posting a +6 for the week.

UPCOMING GAME OF INTEREST
Saturday, February 9th
Detroit Red Wings at Toronto Maple Leafs 3pm
Edmonton Oilers at Calgary Flames 7pm
Montreal Canadiens at Ottawa Senators 7pm
Colorado Avalanche at Vancouver Canucks 10pm
It's "Hockey Day in Canada" and what a time to pull up the La-Z-Boy recliner, grab some chips and beer, and catch ten hours of hockey all day long.

GRATUITOUS PITTSBURGH PENGUINS RELATED AWESOMENESS
Were you excited for the Penguins "X-Generation" from 2003-04? If you count correctly, there's 15 players shown (16 if you count Mario), that are no longer playing at the Igloo.

Enjoy your week. I'll be back next Sunday for another edition of "Puttin' on the Foil".