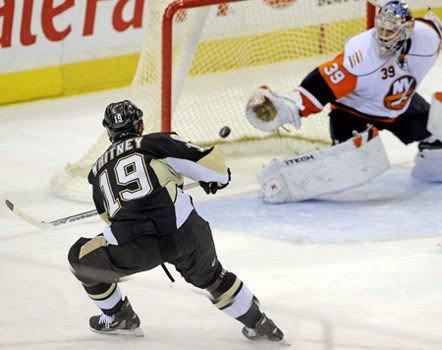 Three days after
being called out by coach Michel Therrien
, Ryan Whitney responded by scoring two power-play goals and assisting on an even-strength goal, en route to a 4-3 Penguins win over the Islanders. It was on Monday night, after a 4-3 loss to the Devils where Pittsburgh blew two two-goal leads, that Therrien outrightly blamed the loss on Whitney's lack of physical presence.
""A guy like Ryan Whitney is going to have to be more aggressive around the net," he said. "He's not aggressive at all. It cost [us] the game."
Ouch. Granted, Whitney's two-goal response is not what Therrien was aiming at, but it didn't help. As far as what the coach was talking about, Whitney was a +1 and dished out a pair of hits during the game.
That quote sparked ridiculous trade rumors since Monday, but the Pens assistant captain is not going anywhere. He just a signed a deal through 2011 and he is a building block on the Penguin blue-line. Trading a guy like Whitney would cause you to lose a valuable leader in the locker and on the ice. He's also a great power-play partner with Sidney Crosby. Both work that back-door play to perfection (Teams are finally picking up on it this season).
Sometimes it takes being called out by your coach to make a player jump up his game a notch and no longer be complacent. Whitney is mature enough and skilled enough to realize that the tough love given to him by Therrien is all for his benefit.
One final interesting note about the game. I was only able to catch the end of the second period, but during that time the Islanders broadcast named Ruslan Fedotenko their "Efficient Islander" of the game, a sponsor-tied in promotion. The best part was under the graphic informed us of the following stat about Tank:
"1 goal in 10 games"
Yes, that's quite efficient!