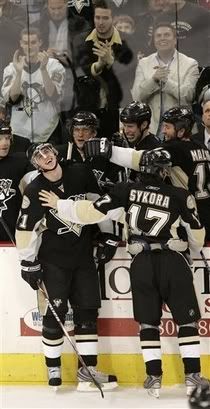 With two more goals and an assist, Evgeni Malkin inched closed to Alex Ovechkin and the Art Ross Trophy race. More importantly, the Penguins crushed New Jersey 7-1, moving them into second in the Eastern Conference. The two face each other again on Tuesday night in New Jersey.
This was a true statement game. A huge game for both teams turned into a laugher by the second period. Hopefully, the Pens can not look past the Islanders on Monday night in New York and don't forget those are two important points as well. A win on Tuesday could put the Pens ahead of the Devils for good.
To Travis Zajac: Your hit from behind on Sergei Gonchar was bush league. I understand you want to send a message before the next meeting, but pulling a stupid move like that is unacceptable. Start a fight, give Marc-Andre Fleury an ice-shower, but don't attempt to injure an opponent like that. I know a guy like Georges Laraque will not forget about that play. I can easily see BGL and David Clarkson throwing down early on Tuesday night.
I don't know much about Brent Sutter, but the one thing I do know is that he'll have his team ready to play Tuesday night. It will not be another 7-1 rout as New Jersey will be much sharper. Those Sutter's are tough, they don't take nights like this well.
Remember when Sidney Crosby got hurt that cold night in January and PensNation thought the world had come to an end? Funny how things have turned out in his absence. We all knew what kind of player Malkin could be, but what we're witnessing now is just unreal.