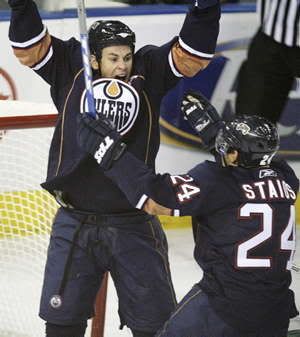 After an off-season which saw their general manager, Kevin Lowe, villified by
villified by many
when he threw a large bag of money at restricted free-agents Dustin Penner and Thomas Vanek, signed Sheldon Souray to a big contract who later would only play 26 games, and fail to bring back hometown hero Ryan Smyth, the Oilers have scratched and clawed their way into the race for the final spot in the Western Conference. This month alone, the Oilers are 7-2 (if you go back to February, they've won 10 of their last 12), with three of those wins coming in overtime thanks to Andrew Cogliano's clutch hands.
Two years removed from being one win away from having a Stanley Cup parade, Edmonton is lacking the big name star player, and is instead made up of hungry youngsters like Cogliano, Sam Gagner, Robert Nilsson, Tom Gilbert and gritty veterans such as Marty Reasoner, Steve Staios, and Dwayne Roloson. They've already lost Souray, Raffi Torres, and their captain, Ethan Moreau for the year. You figure with those guys done for the year, time to pack up the suitcase and book your summer vacation, right? That hasn't stopped this team. It'll be a tough climb to that final spot, as they sit five points out of the eighth spot in the West and one point behind the ninth seed Nashville.
Over the past few weeks I've become enamored with Edmonton and try to catch their games during the week. There's something about this young squad that's appealing to a hockey fan. The drive and heart they show on a nightly basis is something I would love to watch come playoff time. It's a shame that their slow start and rash of injuries could prevent them from playing any late-April hockey.