If you're a Penguins fan, you definitely know who Mike Lange is. Since 1975, he's been a vital part of the Pittsburgh hockey scene and the voice of the Penguins, having never missed a broadcast. In the summer of 2006, FSN Pittsburgh had a brainfart and decided to go "in a different direction", firing Lange. Two months later, the Penguins signed him to do their radio broadcasts. Most known for his "Lange-isms", he's a beloved icon in the city of Pittsburgh. There's even a movement afoot to
bring him back
to television.
The man even has
his own t-shirts!
That should tell you something.
In honor of Mr. Lange's contribution to the sport of hockey and city of Pittsburgh,
Going Five Hole
is proud to announce the "Mike Lange Tournament of Quotes".
Thanks to the brilliance that is
Wikiquote
and the Internet, I've been able to gather 64 "Lange-isms" and form an NCAA-bracket style tournament that you can vote on.
Here's how the voting process will work:
1st Round
:
Friday 3/28 - Thursday 4/3
Round of 32
:
Friday 4/4 - Thursday 4/10
Samuelsson's 16
:
Friday 4/11 - Thursday 4/17
The Errey 8
:
Friday 4/18 - Thursday 4/24
Semifinal
:
Friday 4/28 - Thursday 5/1
Final
:
Friday 5/2 - Thursday 5/8
Here is how the brackets break down:
MICHEL BRIERE BRACKET
(1)Well, shave my face with a rusty razor! v. (16)Great balls of fire!
(2)She wants to sell my monkey! v. (15)Go ahead, make my day!
(3)It's a...HOCKEY NIGHT in Pittsburgh! v. (14)I've seen that fish before!
(4)He left the defensemen on the parkway going to the airport! v. (13)He
takes the heat out of a hot kitchen
(5)You ain't nothin' but a hound dog! v. (12)Get that dog off my lawn!
(6)He gave 'em more moves than Mae West. v. (11)They are buzzin' like
beeeees around a hive!
(7) He smoked him like a bad cigar! v. (10) You can spit-shine your shoes,
'cause the Pens are going dancing with Lord Stanley!
(8)Good shot...better save by (Insert Goaltender Here) v. (9)He's
smilin' like a butcher's dog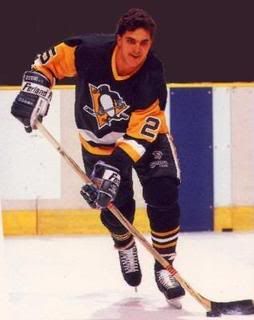 KEVIN STEVENS BRACKET
(1)Buy Sam a drink and get his dog one too! v. (16)How much fried
chicken can you eat?
(2)Michael, Michael, Motorcycle. v. (15)Hallelujah Hollywood!
(3)Oh no, Eddie Spaghetti! v. (14)And the kitchen is closed!
(4)Heeeeeeeeeee shoots and scores! v. (13)He's all over 'em like a new
pair of shoes.
(5)Lord Stanley, Lord Stanley, bring me the brandy! v. (12)He put
(insert player name) on his wallet!
(6)Hop in the Cordoba baby, we're going bowling! v. (11)If you missed
this, shame on you for six weeks.
(7)He's got more patience than Mercy hospital. v. (10)He picked his
pocket like he was walking down 5th Avenue
(8)He should get 5 to 10 for that v. (9)Never sit on a bald man's hat.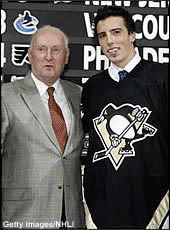 EDDIE JOHNSTON BRACKET
(1)Call Arnold Slick from Turtle Creek! v. (16)How about them apples?!
(2)He doesn't know whether to cry or wind his watch v. (15)I'll be
cow-kicked!
(3)Scratch my back with a hacksaw! v. (14)It's time to buy new shoes!
(4)He hasn't scored since the eighth-grade picnic. v. (13)You'd have to
be here to believe it!
(5)Let's go hunt moose on a Harley! v. (12)It would take a miracle on
Grant Street to come back from this deficit.
(6)That was a million dollar move, but (Insert Goaltender Here) had two
million in his pocket! v. (11)They threw everything at him but the
kitchen sink!
(7)Donna needs a donut! v. (10)Oh, slap me silly, Sidney!
(8)He put it in the top shelf where grandma keeps the cookies v. (9)Go
for it, Mario; go for it.
RONNIE FRANCIS BRACKET
(1)Ladies and gentlemen, Elvis has just left the building! v. (16)Stop
the press!
(2)Look out Loretta! v. (15)Puttin' on the ritz.
(3)He beat him like a rented mule! v. (14)The old two niner
(4)Get in the fast lane Grandma, the bingo game's ready to roll! v. (13)He's like a bull in a china shop!
(5)He's handing out checks like it's the first of the month! v. (12)Never teach a pig to sing!
(6)He got caught with his hand in the cookie jar. v. (11)The turkey is
on the table.
(7)He hit him so hard his kids will be born dizzy! v. (10)There is a 211
in progress at Mellon Arena.
(8)Book 'em, Dano! v. (9)He went right down Broadway and then some!
Voting will begin Friday at 12:00 a.m. ET! Make sure you vote early and vote often! The polls will be listed on the right-hand side of the page, so you can find them easy.UPDATEVOTE NOW - FIRST ROUND!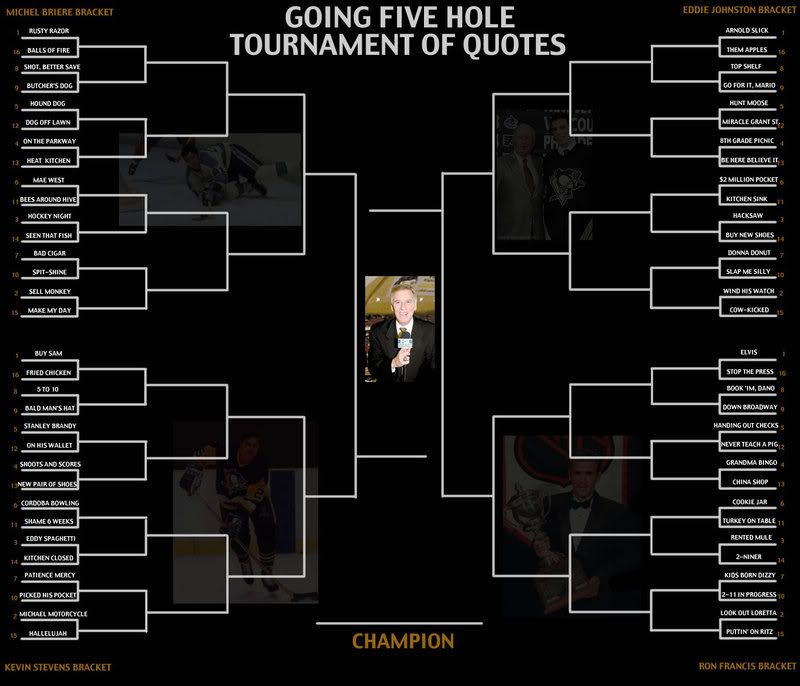 A huge thank you to the boys from ThePensBlog for creating an amazing looking bracket.

Phil Bourque handicaps the final on the 5/1 Crash the Net segment during the Penguins-Rangers Game 4 radio broadcast.


Phil Bourque reveals his favorites for the tournament in-between periods of the Pens-Isles game on 3/27 during the Crash the Net segment.

UPDATE #2: Round 1 voting is over. Go here to view the round 1 winners and second round pairings

UPDATE #3: Round 3 voting is now underway
Ronnie Francis Bracket- 3rd round

Eddie Johnston Bracket- 3rd round

Kevin Stevens Bracket- 3rd round

Michel Briere Bracket- 3rd round
UPDATE #4
Round 4 voting is
now underway

UPDATE #5
We're down to the Final Four! Check out the Final 4 match-ups and vote now!


UPDATE #6
The final two are here. Voting is underway


UPDATE #7
A champion has been crowned.