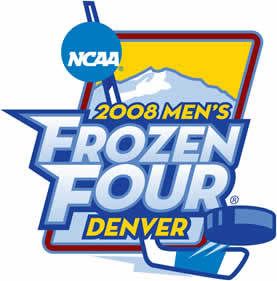 After looking for someone who knows much more about NCAA hockey than I do, Eric Gittleman has been kind enough to be my college hockey correspondent. Over the next few weeks, Eric will be reporting on the NCAA hockey tournament all the way through the Frozen Four.
Neither Vermont nor Boston University won the Hockey East tournament, so they are both out. Boston College won it and clinched the automatic bid. However, Princeton won the ECAC tournament and snagged a bid that somebody else would have earned as an at-large. Nonetheless, Wisconsin still got in with a record under 0.500, because they played a tough schedule, were beaten up in conference by the other WCHA teams, and had a better record against top 25 teams than the other, well, pretenders. ;-)
Another interesting quirk is that unlike the basketball tournament, which prevents teams from playing in a regional that they host, the hockey tournament automatically places a team in a regional that it hosts, so the Badgers will be playing in Madison. The hockey selection committee believes that attendance concerns are more serious than anything else, and they do have a point, as college hockey is a regional game. Also, let's be honest here: home-ice advantage doesn't really matter; if a team has a hot goaltender, they are going to win regardless of where the game happens. That's part of the reason why the Sports Guy gave up on the NHL, although he is a tad misinformed, but that's another story. Still, it doesn't exactly seem fair that a below-0.500 four seed gets home ice for a national championship.
The following is the NCAA Men's Division I Ice Hockey Championship schedule:
East Regional in Albany, N.Y., Friday, March 28
(2) St. Cloud State (19-15-5) v (3) Clarkson (21-12-4) 4:00 PM
(1) Michigan (31-5-4) v (4) Niagara (21-10-4) faceoff 30 minutes after the conclusion of the previous game
Regional Final Saturday, March 29
West Regional in Colorado Springs, Colo., Friday, March 28
(1) New Hampshire (25-9-3) v (4) Notre Dame (24-15-4) 6:30 PM
(2) Colorado College (28-11-1) v (3) Michigan State (24-11-5) 30 minutes after the conclusion of the previous game
Regional Final Saturday, March 29
Midwest Regional in Madison, Wis., Saturday, March 29
(1) North Dakota (26-10-4) v (4) Princeton (21-13-0) 3:00 PM
(2) Denver (26-13-1) v (3) Wisconsin (15-16-7) 30 minutes after the conclusion of the previous game
Regional Final Sunday, March 30
Northeast Regional in Worcester, Mass. Saturday, March 29
(1) Miami University (32-7-1) v (4) Air Force (21-11-6) 4:00 PM
(2) Boston College (21-11-8) v (3) Minnesota (19-16-9) 30 minutes after the conclusion of the previous game
Regional Final Sunday, March 30
The official bracket is
here
. There are a number of players to watch in the tournament, including the nation's leading scorers: BC forward Nathan Gerbe (all 5'8 of him! Just like Brian Gionta), Michigan forward Kevin Porter, and St. Cloud State forward Ryan Lasch. Also of note are the goaltending leaders: North Dakota's (Jean-) Phillipe Lamoreux, Miami's Jeff Zatkoff, Colorado College's freshman Richard Bachman, Minnesota's freshman Alex Kangas, Notre Dame's Jordan Pearce, Michigan's much-maligned Billy Sauer, and Kevin Regan of UNH.
In all honesty, I haven't seen every team play, so I can't really do any full-scale predictions here, but I think it's going to be a good tournament, even if BU's not in it. However, you always have to take a look at goaltending, and Lamoreux, Zatkoff, and Regan have all been tested. It's possible for freshmen to stand on their heads, but more than likely, they will end up playing like freshmen. Let's also not forget the defending national champion in Michigan State; they want to prove that last year was not a fluke.