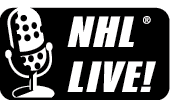 Beginning today at 12pm ET, the
NHL Network
will begin showing XM's
NHL Live
, the hockey radio show featuring E.J. Hradek and Don LaGreca. The show will be broadcast on NHL Network Monday to Friday from 12-2pm EST and replayed daily from 5-7pm EST.
This is another great addition to the NHL Network which has upgraded it's programming greatly since it's debut here in the States last October. Hockey fans are now able to watch weekly ECHL, AHL, and numerous NHL games a month as well as original programming such as Vintages Games, Classic Series, and the medal rounds of the World Junior Championships. The best part? No more of those Darryl Sittler vignettes about his 10-point night! The brass at the NHL Network have finally rotated in some news ones featuring Tom Barrasso, Mike Bossy, Paul Coffey and Bobby Hull.
NHL Live
, broadcast from the NHL Store in New York City, is a call-in talk show which features many interviews with players, coaches, and analysts around the NHL. If you're a hockey fan, it's certainly a great addition to what you're already seeing on the NHL Network.