Not the prettiest of games tonight, but the Pens got the job done and clinched a playoff spot for the second consecutive year. Hossa may have gotten the empty-netter at the end, but did anyone see the ferocious back-checking he was doing all night?
Let's not talk about that Islander game on Monday night. Yikes. Here'e some pics:
Penguins about to not show up against the Isles.
Prudential Center from the outside.
The division/conference championship banners.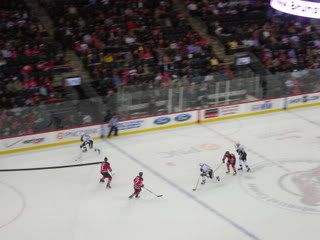 Action shot.
Fleury already thinking shut-out.
Can a Devils fan please explain to me why there's two sets of retired numbers for Scott Stevens and Ken Daneyko?
Sour Patch: a boards advertiser. Awesome.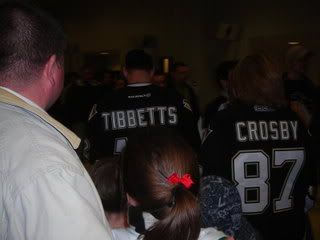 Billy Tibbetts!
Such a beautiful site...and the scoreboard's not bad either.
Couldn't remember if this was after the game or during the first period. Look at that crowd! (Joke! Relax folks)
Finally, the highlight of the night...meeting #25 Kevin Stevens.
What a guy.
Was waiting for the train back to Penn Station, when this huge guy walks in front of me and I immediately recognized #25. After asking for a photo, we wound up BS'ing for about 20 minutes waiting for the train to come. Unfortunately, due to the fact that New Jersey should be revoked from the Union, the tracks where the trains were going got mixed up according to the monitors and Stevens took off for the nearest one, not realizing it was going to South Jersey, not New York. Before I could turn around and tell him to follow me, the doors closed. I sure hope there was a local stop on the train he was on, otherwise he had a 30 minute trip in the wrong direction ahead of him.