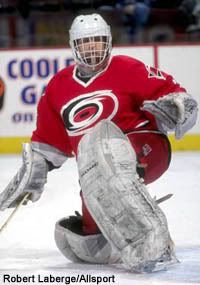 "Certainty? In this world nothing is certain but death and taxes...and the hot playoff goalie" -Benjamin Franklin
OK, so maybe that last part wasn't in the original quote from Mr. Franklin, but isn't it true? Every spring the NHL playoffs enter our lives and one goaltender takes it upon himself to carry his team to a deep playoff run, sometimes ending with a drink of champagne from the Stanley Cup.
If we go back starting in 2001, we've had Johan Hedberg (Pittsburgh - Conference Final), Arturs Irbe (Carolina - Stanley Cup finalist), JS Giguere (Anaheim - Stanley Cup finalist/Conn Smythe Winner), Mikka Kipprusoff (Calgary - Stanley Cup finalist), Cam Ward (Carolina - Stanley Cup champion), and Giguere again last year capturing the Stanley Cup for Anaheim, as your marketed hot playoff goalies.
So who will emerge this playoff season as this year's hot goaltender? Let's take a look at some contenders:
Marc-Andre Fleury (Pittsburgh)
: Since returning from a high-ankle sprain, Fleury has won four of his last five starts and looked sharp in his new white pads. Penguins coach Michel Therrien tends to ride the hot goalie, so if MAF keeps playing the way he has, Ty Conklin will continue to ride shotgun despite saving Pittsburgh's bacon in January and February. The better Fleury plays, the more confidence he will gain and we all know how dangerous the Pens can be on the offensive side of the rink, so having a sound netminder will only increase the team'sHe chances of a long playoff run.
Henrik Lundqvist (New York Rangers)
: Last week, I decided to check out the standings for the first time a week or so and was stunned to see the Rangers just a few points behind both the Devils and Penguins. Since their disasterous loss in Montreal in February, the Blueshirts have gone 7-3 (7-1 if you don't count their hiccup during last week's Florida trip). Lundqvist has played in all ten of those games and really pushed his named into consideration for the Vezina Trophy. The 26-year old Swede is a playoff gamer as we all saw last year. He took the experience from the 4-0 sweep at the hands of the Devils in 2006 and pushed Buffalo to the brink last year, losing in six games in the Eastern Conference semifinals. Pressure doesn't get to Lundqvist whether it's the Olympic or NHL stage and that could be key for the Rangers.
Tim Thomas (Boston)
: This late-bloomer who bounced around the minor leagues and Europe has found a home for himself in Boston. He is a streaky goaltender who is capable of getting hot come April. This season alone he's had three three-game winning streaks, a five-game winning streak, as well as a four and five game losing streak. It's really going to be a toss-up as far as which Tim Thomas shows up in the playoffs (unless Alex Auld puts him on the bench). The team in front of him is a scrappy bunch, who could pull off an early-round upset if they have the backing of a hot Tim Thomas between the pipes.
Jose Theodore (Colorado)
: The former Vezina and Hart Trophy winner has already given us a "hot" performance back in 2002 when he backstopped the #8 seed Canadiens over top-ranked Boston in the first-round. Right now, Colorado is bouncing back-and-forth between the three seed in the Western Conference and bottom of the table, duking it out with Vancouver, Calgary and Minnesota. Theodore has been brought back to Earth from his former stardom and now stars in his role with the Avalanche. A six-game winning streak at the end of February helped boost Colorado's hopes and brought Theodore back into the spotlight. He's done it before in the playoffs with the pressure of wearing the bleu, blanc, and rouge. Now, in Colorado, with less pressure, it's not a long shot to say he might have another upset or two in him again.
Dan Cloutier (Los Angeles)
: Ha, just kidding!
Roberto Luongo (Vancouver)
: I wanted to stay away from big name goalies when picking these guys, but most of the big names (Brodeur, Hasek, Turco, Nabokov) are on teams high in the standings. Luongo's Canucks will sit either in the number three seed or bottom of the Western Conference when all is said and done. What's different in this case is that Vancouver has a problem scoring goals and no matter what seed they get, will have to rely heavily on Luongo's play to advance in the playoffs. Luongo can definitely steal a series despite the lack of offense in the Canucks lineup. If you're a fan, things might be pretty intense every night come playoff time. I can see a lot of 2-1, 1-0 games in the opening round if the Canucks are there.
Honorable Mentions: Carey Price (Montreal), Martin Gerber (Ottawa), Dan Ellis (Nashville), Nicklas Backstrom (Minnesota).
I feel pretty comfortable saying that one of those goalies above will be this year's "hot" goalie. We know the Brodeur's, Hasek/Osgood's, and Nabokov's will perform as usual, but a great playoff performance by a goalie could be a stepping stone to bigger and better things down the road.