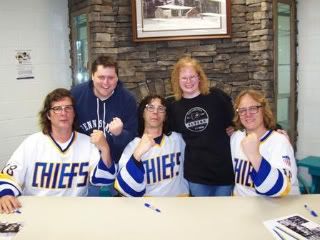 MONOLOGUE
The playoffs are upon us! A little over three weeks from now playoff beards will be in full force. Mainstream media will pay a bit more attention to the passion-filled hockey that will be in front of us for a good two months. What playoff match-ups would I love to see in the first round?
PRINCE OF WALES CONFERENCE
Montreal v. Boston
-How can you not get up for an "Original Six" series in the opening round?
Pittsburgh v. Philadelphia
-I don't know if the state of Pennsylvania will able to handle this monster of a series.
NY Rangers v. Carolina
-A goaltending match-up between two of the league's brightest young netminders.
NJ Devils v. Ottawa
-Someone's got to put the Senators out of their misery.
CLARENCE CAMPBELL CONFERENCE
Detroit v. Calgary
-Things got chippy in last year's series. Some feelings still simmering?
San Jose v. Vancouver
-Another great goaltending match-up between two teams with high expectations.
Anaheim v. Minnesota
-Talk about feelings simmering from last year's playoffs. The Wild toughened up specifically for this matchup.
Colorado v. Dallas
-The Avs are getting close to healthy and we could find out if Dallas is for real or not.
NEWS AND NOTES
The NHL suspended Chris Prongers yesterday for
eight games for his stomp on Ryan Kesler
. Anaheim has nine games remaining in the regular season, which makes Prongers eligible to return on April 6th for their final game against Phoenix. The league initially did not plan to punish Pronger, but when better video evidence surfaced, they were forced to act.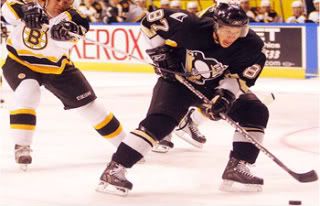 Sidney Crosby's bum right ankle is still bothering, so it was announced
he's going to sit out a week
after feeling some soreness. The good news is that the pain he's feeling is not enough to keep him if the playoffs were starting today.
After trading Adam Foote at the trade deadline, Columbus found themselves without a captain. This week, they
named Rick Nash their new captain
. At age 23, Nash becomes the fifth captain in Blue Jackets history.
Predators forward David Legwand has been charged
with a DUI for a February 15th traffic stop
. The fourth leading scoring on the Nashville lineup has played every game since his arrest.
AROUND THE BLOG WORLD
That Marian Hossa trade certainly hasn't worked out that well for Pittsburgh has it?
Melt Your Face Off
examines the issue and shows us Pascal Dupuis, the other player in the trade, has done pretty well.
Five for Smiting
shows us how they motivate players in Russia.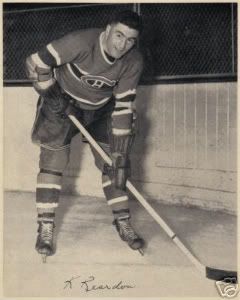 Canadiens Hall of Famer Ken Reardon passed away this weekend.
Eyes on the Prize
takes a look back at his career.
Ever wonder what current NHL players compare to characters in
Cloverfield
? Well,
Two Man Advantage
breaks down the cast.
Everything Hockey
is looking for ideas to increase scoring around the league. Expanding nets? Bigger curves on sticks?
LET'S GO TO THE VIDEOTAPE!
The NHL's new "One Play" commercial, part of their"Live Every Shift" campaign.A broadcaster really wants to see a fight. I like the Ric Flair "Wooo" at the end.
Thanks to
FAN IQ
for sending this in.
A ridiculous skills competition goal by the probably #1 pick, Steven Stamkos.Coach's Corner from last night's Hockey Night in Canada (check out that suit!).
PLAYER OF THE WEEK
Jarome Iginla
scored his 365th goals of his career to become the Flames all-time leader. Iggy Pop tallied four goals, three assists, and was a +3 in three games this week.
UPCOMING GAME OF INTEREST
New Jersey Devils v. Pittsburgh Penguins, Saturday, March 22, 7:30pm EST
A battle of two of the top teams in the Eastern Conference. Points are vital at this stage of the season as a win could boost either team to the #1 seed and a loss could bump you to mid-table. Martin Brodeur gives Pittsburgh fits, but it should be interesting to see if Marian Hossa, Sidney Crosby, and Evgeni Malkin finally play together.
GRATUITOUS PITTSBURGH PENGUINS RELATED AWESOMENESS
After the Penguins won the Cup in 1991, KDKA TV's Dave Crawley wrote this fantastic poem about the club's 8-0 win in Game 6.
More "Puttin' on the Foil" coming at you next week!