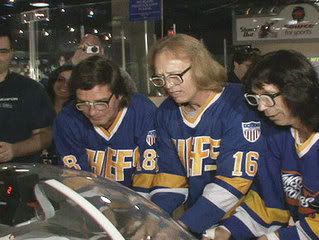 MONOLOGUE
The Art Ross Trophy race is on:
Evgeni Malkin 37g 50a 87 pts
Alex Ovechkin 49g 36a 85 pts
Vincent Lecavalier 32g 48a 80 pts
Jarome Iginla 40g 39a 79 pts
Daniel Alfredsson 37g 41a 78 pts
Henrik Zetterberg 36g 39a 75 pts
Mike Ribeiro 27g 48a 75 pts
Jason Spezza 25g 50a 75 pts
Pavel Datsyuk 23g 52a 75 pts
Joe Thornton 17g 57a 75 pts
NEWS AND NOTES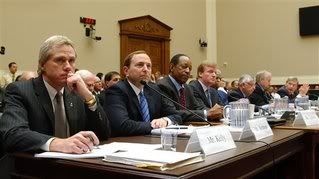 The leaders of the four major sports in North America
testified before Congress
regarding steroid use in their respective leagues. Gary Bettman told Congress that only one player (Sean Hill) has been suspended for testing positive for steroids since the NHL returned from the lockout.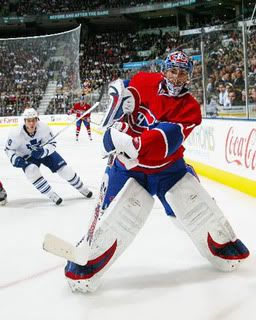 Trying to recapture the rookie magic brought to them by the likes of Patrick Roy and Ken Dryden, the Canadiens traded Cristobal Huet to Washington before the trade deadline, making
Carey Price their number one goaltender
. It's a questionable move to many fans and it's probably a good thing they retired general manager Bob Gainey's number before the trade deadline. This deal has many scratching their heads still.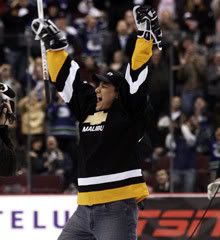 Those promotional contests do payoff sometimes. Wednesday night, Darwin Head scored 15 of 20 pucks from the far blue line
to win $1 million
. To accomplish the feat, Head was only given 24 seconds. He received some training from the great Bobby Orr, a guy who knows a thing or two about scoring goals. Not only did he win the money, but also three Chevy Malibu Hybrid's for him and two friends, as well as a fan in the crowd.
The Islanders are celebrating this weekend their
"Core of the Four"
, honoring the 17 men that were apart of all four Stanley Cup teams in the 1980's. The weekend culminates with an on-ice ceremony today before their game with the Florida Panthers.
AROUND THE BLOG WORLD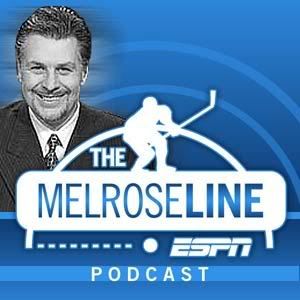 It must be quite the feeling to learn the name behind your blog finds out about it. During his podcast this week, Barry Melrose was informed about the existence of
Barry Melrose Rocks
and seemed pretty delighted. This means we're only a few weeks away from an exclusive interview with the "Mullet".
The battle between Russia and the NHL is not going away, even if Vladimir Putin will no longer be president very soon.
NY Times Slap Shot blog
has the details of a new law to be passed.
How did those players moved at the deadline do in their debuts with their new teams?
Taking One For the Team
gives us the stats and "instant gratification" for many.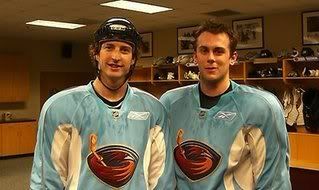 We've heard all the pros and cons from the Penguins perspective with the Marian Hossa trade, but what does Atlanta think about it?
Do the Thrashers Have Large Talons?
examines the return Don Waddell got for Hossa.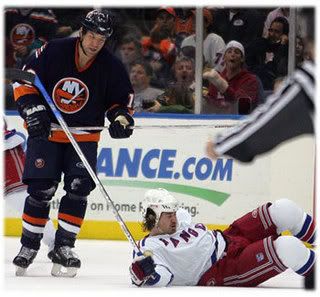 NHL FanHouse
delves into the mystery of why, why, why did Minnesota trade for Chris Simon this week. If anyone knows why, please let me know.
LET'S GO TO THE VIDEOTAPE!
Will this be the Bruins third jersey next season?.Tuomo Ruutu is your Guitar Hero overlord.Gordie Howe and Wayne Gretzky playing together in a WHA exhibition against Moscow Dynamo.The Hockey Night in Canada theme as played to you by "Mario Paint".
PLAYER OF THE WEEK
Mats Sundin
did not get traded at the deadline on Tuesday, but he sure did have an offensively-charged week. With 4 goals and 4 assists, a +4 and 2 power-play goals, Toronto's captain affirmed his belief to stay and help try to get the Leafs into the playoffs.
UPCOMING GAME OF INTEREST
New York Rangers at New York Islanders, Thursday, March 6, 7:00pm EST
The rivalry continues at Nassau Coliseum this week. The Islanders are just on the outside of the final playoff spot in the Eastern Conference and the Rangers are a few points within the top eight. With under 20 games remaining, these are valuable points at stake, with every night being a playoff game. Who's taking bets on whether or not there will be more goals scored or fights in the stands?
GRATUITOUS PITTSBURGH PENGUINS RELATED AWESOMENESS
A fan's farewell video to Colby Armstrong and Erik Christensen.
Until next week where there will be more"Puttin' on the Foil".