MONOLOGUEMaurice Richard Trophy race
Remember when Ilya Kovalchuk was the early front-runner? Now? Not so much
Alex Ovechkin 54 goals
Ilya Kovalchuk 45 goals
Jarome Iginla 40 goals
Evgeni Malkin 38 goals
Daniel Alfredsson 37 goals
Henrik Zetterberg 36 goals
Rick Nash 35 goals
Marian Gaborik 34 goals
Eric Staal 33 goals
Patrick Sharp 33 goals
NEWS AND NOTES
During a 10-2 rout of the Bruins, Alex Ovechkin
hit the 50-goal mark for the second time
in his young career. OV became only the third Capital to reach the 50-goal plateau twice in his career.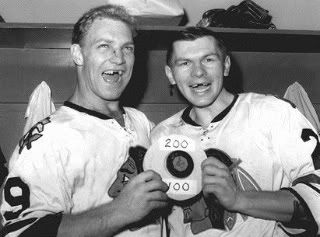 The Blackhawks welcomed back Bobby Hull and Stan Mikita
into their hockey family
, years after being frozen out by former owner, Bill Wirtz. Seems as if the family of Bill Wirtz is doing everything they can (and the opposite of what their father did) in order to bring back the relationship between the city and the Blackhawks.
Anaheim's playoff push took a major blow when Corey Perry lacerated
his leg and is out 6 weeks
. Colorado's Jose Theodore's skate nicked Perry's leg, causing the injury. It is estimated that Perry will return in early April, most likely missing the first-round of the playoffs.
When asked this week about possible future Winter Classic locations, Commissioner Gary Bettman said that
"Chicago would make a lot of sense"
, sparking rumors about the Windy City being the next destination. While there are a handful of other possible locations, there is plenty for the league to discuss before actually holding one next season.
AROUND THE BLOG WORLD
Did you miss the big Andre Roy and Riley Cote fight from the other night? Well,
Hugging Harold Reynolds
has the video evidence.
Who doesn't love Ice Girls? Now, it's your chance to vote who has the best group. Check out
Puck That Hit
to see which hot chicks are fan favorites.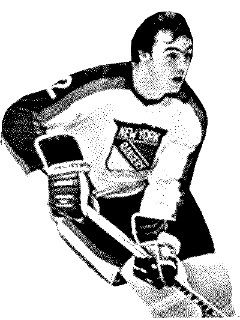 Nick Fotiu was not only a fighter, but a bit of a joker as well in his career. Joe Pelletier of
Greatest Hockey Legends
profiles a couple of stories in Fotiu's career.
James Mirtle
lists those players who have so far been nominated for the Bill Masterson Trophy.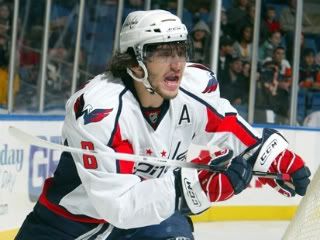 An Iso camera just on Alex Ovechkin? What took so long?
On Frozen Blog
has the details and date of when Comcast will debut it.
LET'S GO TO THE VIDEOTAPE!
Sadly, I should be at the Pens-Caps game today, but of course, work got in the way. Boo. Here's a video to get you hyped up for the 12:30 ET start.Eric Nystrom does his best Ned Braden impersonation.Since I'm in the mood, here's a great clip from "Slap Shot".Coach's Corner from last night's Hockey Night in Canada.
PLAYER OF THE WEEK
Evgeni Nabokov
led the way for the hot Sharks, who continued their undefeated streak this week. Nabby went 3-0 this week, giving Ron Wilson more reasons to keep riding him to the postseason.
UPCOMING GAME OF INTEREST
Dallas Stars at Detroit Red Wings, Thursday, March 13, 7:30pm EST
The top two teams in the Western Conference clash and the Stars are hoping to inch two points closer to the Red Wings, who've been ravaged by injury and doing their best Ottawa Senators imitation lately.
GRATUITOUS PITTSBURGH PENGUINS RELATED AWESOMENESS
Remembering the 4-overtime game between the Pens and Capitals back in 1996.
"Puttin' on the Foil" returns next week, pending Sidney Crosby and Evgeni Malkin both suffer season-ending injuries