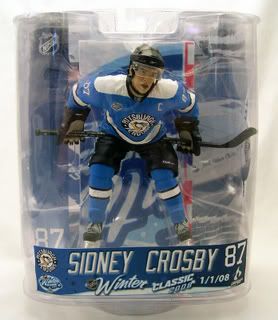 Like many, I used to collect
Starting Lineup
figures when I was a kid and by the time Todd MacFarlane started creating sports figures, I was out of the game. I do though however, admire his attention to detail and brilliant artwork on the figures. The craft has spawned (no pun here) many collectors to begin making their own custom made versions of the popular collectibles. There was the
infamous Clink Malarchuk-injury figure
and one of my all-time favorites,
Alex Ovechkin from the 2006 Olympics
, complete with gold skate laces.
Now, for you Penguin fans come a sweet looking Sidney Crosby custom from
All Star Customs
, a company that allows collectors to request their own custom figure. From choosing the brand of equipment the player is wearing to the type of information you want on the packaging, collectors can make a figure look however they want. Their Sidney Crosby Winter Classic figure is really nice. Not only the figure itself, but the artwork on the box gives it the complete package.
Having the Winter Classic logo art on the ice-base is a nice complete touch and adds to the entire theme. What MacFarlane has done with these figures is tremendous compared to what collectors had when Kenner made
Starting Lineups
: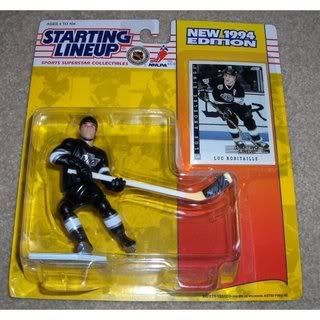 Look, it's Luc Robitaille and his giant hockey stick!