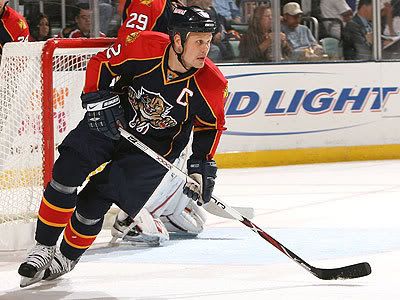 For almost the past decade, we've heard about the "great young talent" that the Florida Panthers have and how "this is the year they'll make the playoffs". Quite the sell job if you're a ticket sales representative for the club. What has been marketed as "promise" has consistently ended in the lack of playoff hockey for the franchise. Now, in their 14th National Hockey League season, it's looking as if the Panthers will again miss the playoffs, a feat they last achieved in 2000 and only three times in their entire history.
I bought into the hype that the Panthers brass was selling when I lived in Fort Lauderdale for five years between 1999 and 2004. They were the only local hockey team around and I watched every game I could to get my fix as well as attending upwards of 8-10 games a year. A few times I predicted them to get into the post-season and even have an upset or two. Of course, I was wrong each time. Florida has finished no better than third in the Southeast Division since 2001, making Panther fans (yes they have those) wonder if there should be drastic changes within the organization.
From Mike Keenan to Duane Sutter to John Torchetti to now, Jacques Martin, no one has been able to push the Panthers over the top and make them perennial playoff invitees. While Florida sits and waits, their star captain, Olli Jokinen simmers and eagerly waits to either be traded (like he was rumored to be a few weeks ago) or until he becomes an unrestricted free agent after next season. There has not been enough progress in South Florida for Jokinen to even think about signing another deal. Jokinen is mature enough now to read between the lines of the BS thrown his way by Panther management about the "future". Like his former teammate Roberto Luongo, there will come a day for Jokinen when he'll grow weary of the constant building of the team and up and leave to better pastures and a greater chance to win the Stanley Cup.
You can't fully blame Jacques Martin for the current Panthers lineup. If former GM Mike Keenan hadn't traded away Roberto Luongo for a box of pucks, Florida would be in a much better position than they currently sit. If Martin is able to hang on to his jobs as coach and general manager, this off-season will be vital for the future of the franchise. They were able to bring in a quality goaltender in Tomas Vokoun from Nashville, but the Panthers need more scoring. Young David Booth has been a pleasant surprise, but scoring is needed from guys not named Jokinen or Nathan Horton. Looking at the upcoming free agent crop, names like Kristian Huselius and Pavol Demitra stand out as guys who can put the puck in the net.
While things currently look promising on the ice for the Florida Panthers, the loss of a Jokinen could damage the team if the young talent like Booth, Kamil Kreps, Nathan Horton, or Brett McLean struggle with the offensive load.
We all saw what kind of a crowd a playoff team in Florida can produce (OK, they were enamored by plastic rats and throwing them on the ice. Sure, maybe they didn't know what exactly was going on down on the ice, but still, they were into it), so if this team is going to survive in that market, owner Alan Cohen has to stop treading water and spend a little. It's the only way they'll keep playing hockey in South Florida.