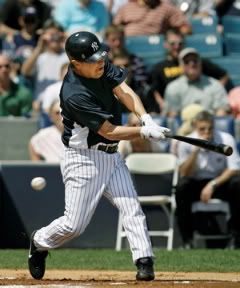 After hearing the news that lifelong New York Yankees fan Billy Crystal was signed to a
one-day contract during Spring Training
, I began thinking what celebrity hockey fans would be able to handle the speed and toughness of the National Hockey League. Baseball and hockey are two completely different sports and to step on the ice alongside guys like Alex Ovechkin, Dion Phaneuf, and Zdeno Chara, you need to be two things: 1) a little nuts in the head and 2) full of courage (or many, many beers to dull the pain of a Phaneuf hit).
After thinking of a handful of celebrity hockey fans, I also wanted to compare them to a specific player that is currently in the NHL. Rumors say that Crystal is the modern day Mickey Mantle in the Broadway Softball League, but probably would equate to a guy like David Eckstein nowadays.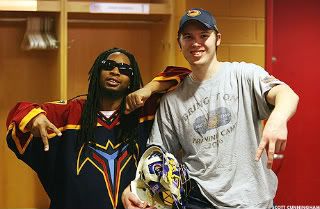 Lil' Jon
Compares to:
Jeremy Roenick
-Both have magnetic personalities and Lil' Jon would provide a little more humor into the game, much like Roenick has done so in his career. I guess it would be kind of tough to skate up and down the ice while crunk.
YEAH!
Steve Carell
Compares to:
Dan Cloutier
-Carell is a smaller guy, around 5'8/5'9, but judging by his tremendous goalie skills in the video above, there's no doubt a team like the Lightning or Kings could use him. He also showed his great skating skills during an episode of
The Office
last season. Very useful if a team needed him to skate out.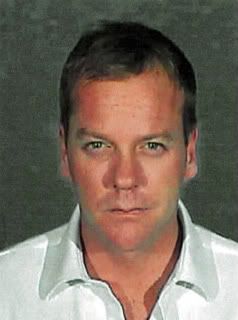 Jack Bau...err Kiefer Sutherland
Compares to:
Ryan Getzlaf
-Big, power forward-type, who would dominate along the boards, be able to escape any pressure situation and not afraid to drop the gloves to defend the honor of his teammates (and country).
Jason Priestley
Compares to:
Mike Ribeiro
-The pretty boy who will score you a lot of goals, but is also fun to knock around if you're an opponent. Other players would be jealous of his great hair and straight, full set of teeth. That wouldn't go over well in the NHL. Hockey players hate pretty boys.
Vince Gill
Compares to:
Derian Hatcher
-Big, slow, goofy defenseman who would be made silly by the league's top stars. As a player would skate by, Gilly would pull the old stick-swipe and/or arm-hold to slow down an opponent, rather than, you know, playing actual defense.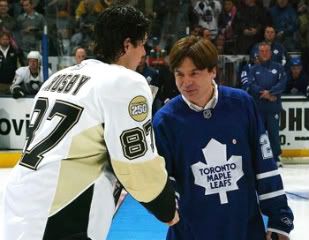 Mike Myers
Compares to:
Zach Parise
-Another small guy who would be a sneaky forward knocking in garbage goals and finding himself in the right place at the right time. With his excellent impersonation of a Scotsman, he'd be a riot in the locker room.
Snoop Dogg
Compares to:
Jordan Staal
-A big, skinny, smooth skating forward who could use his long reach to his advantage. He invented an entirely new language by adding "-izzle" to the end of any words, which would make for some interesting trash talk on the ice.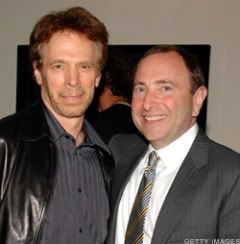 Jerry Bruckeheimer
Compares to:
Sean Avery
-He'd be the guy who jaws a lot on the ice, maybe dishes out a (late) big hit, gets himself involved into scrums, but when it's time to drop the gloves, out comes the turtle shell.
Kurt Russell
Compares to:
Dany Heatley
-Another strong forward who could bully his way to the net for a goal. Won't be the fastest guy on the ice, but able to put himself in the best position possible for a scoring chance. Not to mention, who would want to mess with Snake Pliskin?
All sports like to copy each other. Whether it's television angles, the use of instant replay, or ways to speed up the length of games, sports mimic each other in many ways. I think we're only a short time a way before we see a celebrity suit in during a pre-season NHL game.