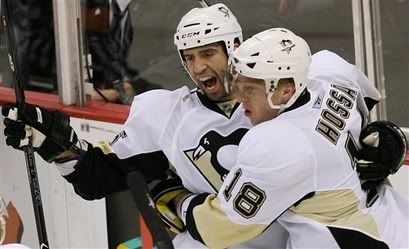 Weather the storm.
That's what the Penguins had to do. They knew Ottawa was going to come out fired up at home with the crowd on their side. Marc-Andre Fleury was not having any of that. He kept Pittsburgh in the game, even after allowing Nick Foligno's goal early in the second period.
Just as valuable has been Pittsburgh fourth liners, including Max Talbot, the perfect spark plug. His goal minutes after Foligno's took the Ottawa crowd out of it and sent the Senators emotions back into worry-mode.
I'm anticipating some Sens fans/writers/bloggers complaining that Pittsburgh was given seven power-plays to Ottawa's two. Here's what I think: how often do you see the visiting team get the benefits of calls? Not often. Also, if you're going to bitch about penalties given to Ottawa, thank Chris Neil for because the cause of three stupid, stupid power-plays.
But hey, at least Neil decided to show up this series, right?
For the critics who predicted Marian Hossa would disappear in the playoffs, I would say he may just have one goal, but he does have 15 shots, which easily could have been turned into a few more goals if not for some fantastic saves by Martin Gerber.
Is this series over? Yes, that was evident at the end of tonight's game. I was expecting some sort of scrum or message sending by Ottawa to let Pittsburgh know this wasn't over yet. Well, none of that happened. The Senators gave up. They know it's over. After Jordan Staal's goal to make it 4-1, the wind was knocked out of their sails.
Wednesday night, Ottawa's team photographer might want to update that hand-shake picture outside of the visiting teams locker room.