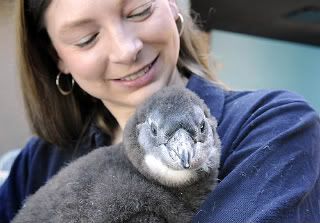 courtesy Pittsburgh Post-Gazette
If you're a legendary professional athlete, one of the cool perks when you're done playing is having a street named after you. There's "Mario Lemieux Way" in Pittsburgh, "Wayne Gretzky Drive" and "Mark Messier Trail" in Edmonton, and "Mr. Hockey Gordie Howe Lane" in Saskatoon. These landmarks will live on forever and is a nice way to honor an athlete who contributed so much to the local community.
For guys still active, they're usually bestowed the honor of cutting the ribbon at the opening of the local Safeway or King Kullen or holding a shovel during the ceremonial groundbreaking of a new arena or stadium.
If you're really special, the local zoo names a resident animal after you. Yesterday, the
Pittsburgh Post-Gazette
ran a story about the Erie Zoo and their 8-week old African penguin, which they've named Sidney, in honor of the city's star young centerman.
The article gives some details about "Sidney" and I couldn't help but notice there's a lot of similarities between these two penguins that can't fly.
"'Sidney' is an African penguin."
Sidney is a Canadian Penguin.
"Within a week, he'll ("Sidney") be shedding the fuzz, which is soft and silky like a kitten's fur but is actually many tiny "juvenile feathers." Then he'll grow the black and white feathers that make penguins look like they're wearing tuxedoes."
Before the playoffs began, Sidney shed his own fuzz and is slowly growing his own black "feathers".
"He ("Sidney") arrived in Pittsburgh four weeks ago and has been in quarantine at the North Side facility as a safety precaution for him and for the other birds."
Sidney arrived in Pittsburgh three years ago and has been quarantined in the Lemieux household with protection being provided by Georges Laraque.
"African penguins are considered an endangered species -- once numbering more than 1 million, now only 100,000 live on the west coast of South Africa."
Special players like Sidney Crosby are an endangered species as well
It's too bad "Sidney" the penguin is not at some kind of petting zoo. That way, for good luck, Penguin fans can pet him, similar to the tapping of a sign that University of
Notre Dame football players do
. From here on out, the playoffs will only get tougher for the Pens and any type of good luck will be welcomed.